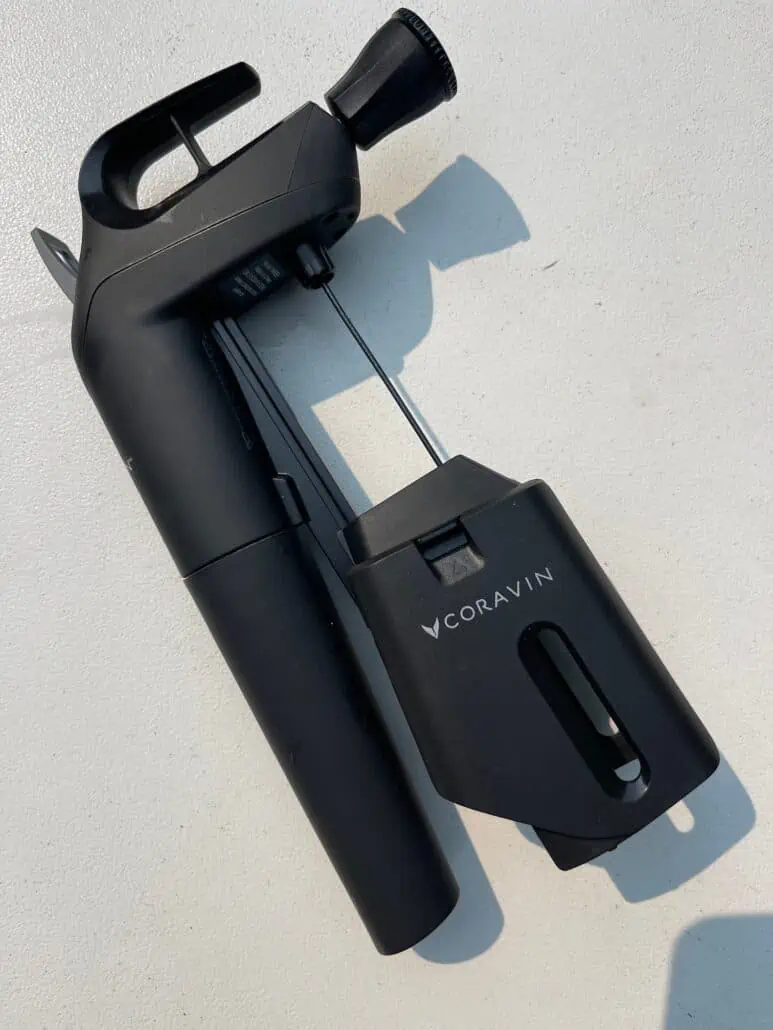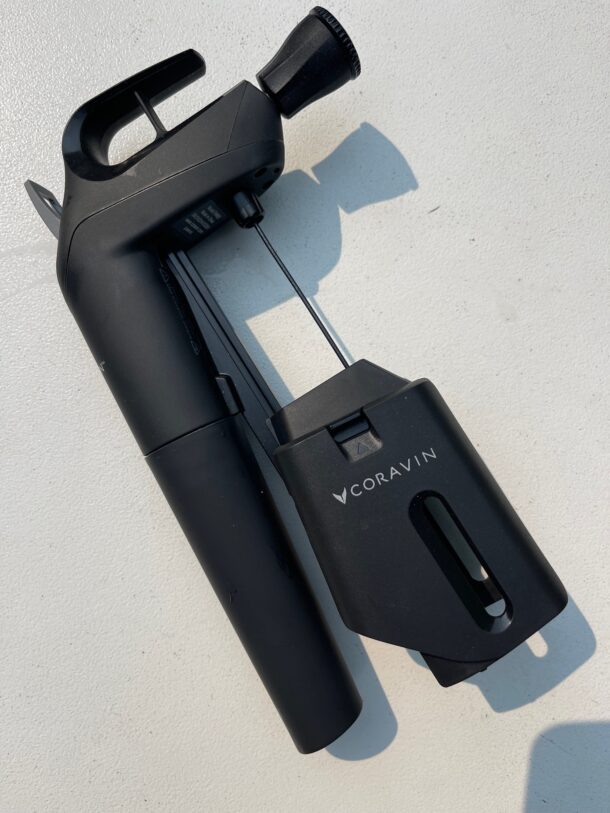 Introduction
The Coravin Timeless Three+ Wine Preservation System has revolutionized how wine enthusiasts enjoy their favorite bottles by allowing them to pour and preserve wines without removing the cork. This in-depth review of the Corarvin Timeless Three+ will explore how the system works, its effectiveness in keeping wine fresh, user experiences, best use cases, cost, accessories, and potential drawbacks.
We've owned several Coravin wine preservers since they were first released. We are impressed with their commitment to continually improving them by adding features for aerating wine and preserving screw-top wines.
How the System Works
The Coravin Timeless Three+ uses patented technology that allows you to access wine without removing the cork. To use the system, you insert the thin hollow needle through the cork. Then you push a lever that injects pressurized argon gas into the bottle. This pressure lets the wine flow through the needle, out a spout, and into your glass. Once the needle is removed, the cork naturally reseals itself, maintaining the wine's freshness and integrity.
Wine Freshness
Coravin claims their Timeless Three+ system can keep wine fresh for weeks, months, or even years. The use of argon gas, an inert gas that does not react with wine, prevents oxidation from occurring. This preservation method ensures the remaining wine in the bottle maintains its original aroma, flavor, and quality.
Our experience backs up this claim. We've revisited bottles after six and twelve months. In each case, the wines showed no signs of oxidation. The flavors were still lively and fresh.
Quotes from Users
As part of our review of the Coravin Timeless Three plus, we read user comments about the system. Many users praised the Coravin Timeless Three+ for its ability to preserve wine and provide flexibility for wine drinkers. One user stated, "It's given me the freedom to enjoy a glass of wine without worrying about finishing the whole bottle. I can now savor my expensive wines over time, knowing they won't spoil." Another user mentioned, "I love being able to taste multiple wines in one evening without committing to drinking entire bottles."
These mirror our feelings about the Coravin system. 
Best Ways To Use A Coravin System
The Coravin Timeless Three+ is ideal for:
Wine enthusiasts who want to enjoy a single glass without opening the entire bottle.

Those who wish to taste and compare multiple wines without committing to full bottles.

Wine collectors who want to periodically check the aging progress of their valuable wines.

Restaurants or wine bars offering extensive by-the-glass selections will love the Coravin.

Wine educators who need to pour glasses for student tastings.

Winery tasting room staff and salespeople. 
Cost
The Coravin Timeless Three+ retails for around $200, making it a considerable investment for casual wine drinkers. However, the system's ability to preserve wine and reduce waste may offset the initial cost for those who frequently consume and appreciate fine wines.
Coravin often runs sales on its website around major holidays if you want to save a little money. 
Accessories
The Coravin Timeless Three+ comes with helpful accessories, including:
Two Coravin Pure Capsules – These capsules contain argon gas, which is the key to their preservation process.

A Coravin Screw Cap – This reusable cap allows you to use the system on screw-top bottles, expanding its versatility.

A carrying case – The case provides protection and easy storage for the Coravin system and its accessories.
Who Might Not Like It
The Coravin Timeless Three+ might not be suitable for those who:
Only consume affordable wines that are meant to be enjoyed quickly.

Typically finish a bottle in one sitting or within a few days.

Are on a tight budget and find the initial investment cost-prohibitive.
Pros and Cons
Pros:
Preserves wine for extended periods, maintaining freshness and quality.

Allows for flexibility in wine consumption and comparison.

Can be used on both corked and screw-top bottles (with the screw cap accessory).

Useful for wine collectors, enthusiasts, and businesses.
Cons:
The relatively high cost may deter casual wine drinkers.

Requires ongoing purchase of argon gas capsules. 

Some users may initially find inserting and removing the needle slightly challenging. This could be especially true for anyone with arthritis or other hand strength issues.

The sharp needle could be a hazard for small children.

With repeated uses of the Coravin on one bottle, we have experienced wine leakage when we lay the bottle back down. This seems to happen when the needle is left in the cork too long and the small hole doesn't close completely.
Order On Amazon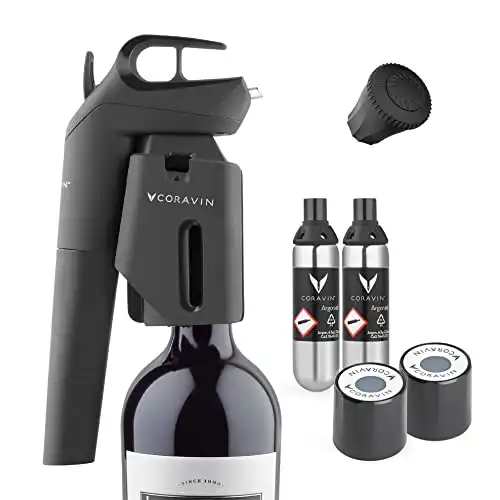 We earn a commission if you make a purchase, at no additional cost to you.
Conclusion
The Coravin Timeless Three+ Wine Preservation System is an innovative solution to the challenge of wine preservation. As a bonus, it gives wine drinkers more flexibility when drinking wine. 
Its effectiveness in maintaining wine freshness and quality and its versatility makes it a valuable investment for wine enthusiasts, collectors, and businesses. While the initial cost and ongoing purchase of argon gas capsules may be a drawback for some, the system's ability to reduce waste and enhance the enjoyment of fine wines makes it a worthwhile consideration for those passionate about wine. That's why we include Coravin preservation systems on our list of must-have wine accessories.