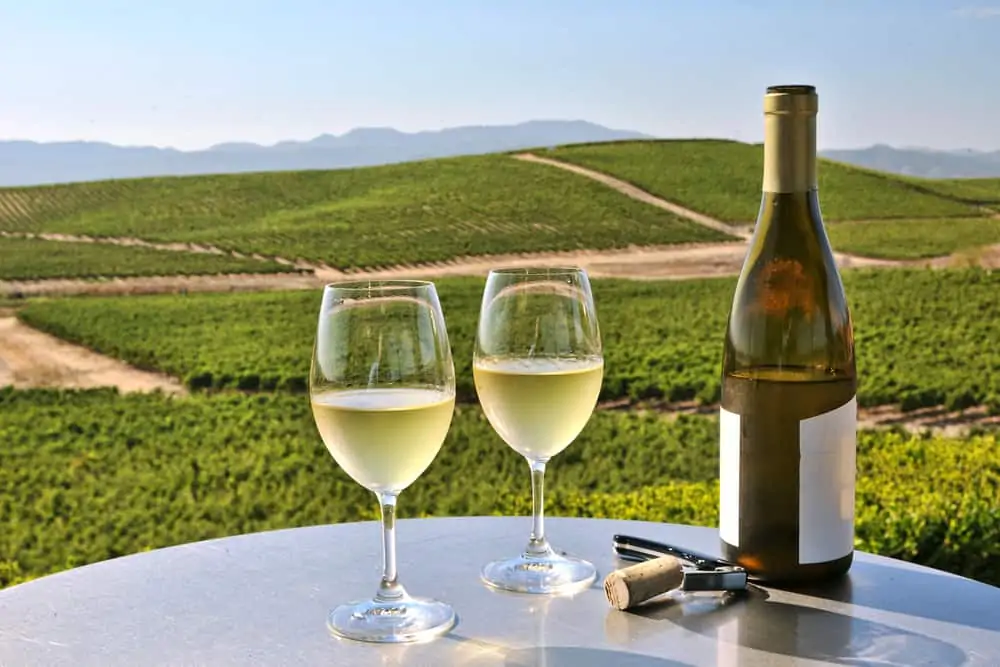 How to Go Wine Tasting Safely
Going wine tasting safely is going to be a big topic soon. California is joining the list of states that are allowing people to visit wineries. That means hundreds of tasting rooms will be accepting wine tasters over the summer. We want to make sure these winery visits are done safely.
[Prefer to stay home for now? Check out these great online wine clubs]
On March 15, all the tasting rooms in the state of California had to shut down. Now, after two months of wine tasting via social media and video conferencing apps, many vintners are eager to open for business again.
But is it safe to go wine tasting? That's a question that is difficult to answer. We are not public health professionals and don't feel comfortable saying yes or no. What we would like to do is give you some guidance on how to prepare and what to ask before you head to the wine country.
COVID-19 has changed the rules and protocols of tasting rooms. There will be some obvious changes like booking wine tastings in advance. This was a trend before the pandemic and now it will be the norm throughout all wine regions. We are confident that the majority of establishments will go the extra mile to ensure their visitors stay safe and healthy. They will also do their best to make your wine tasting a memorable experience.
This article offers you our thoughts on how to avoid infection while returning to the joys of wine tasting. These thoughts are informed by the CDC, wine trade groups, widely available public health information.
Quick Reminders
Before you find out how to go wine tasting safely, it pays to remind yourself of some general guidelines.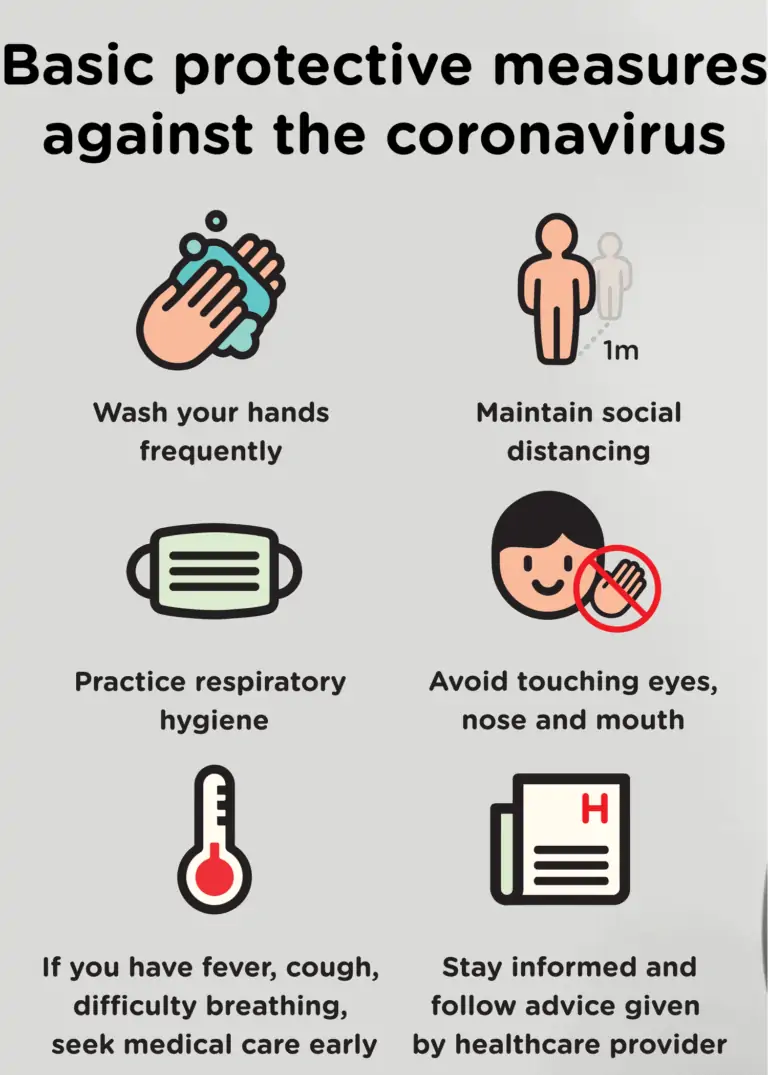 As per the CDC recommendation, you need to have a cloth covering your face whenever in public. This is to protect others if you're infected but unaware of your condition. Of course, you won't keep the cloth on during the tasting, but you should wear it right up to when you start tasting.
Then, there's the whole hand sanitation thing. Washing your hands thoroughly using soap and warm water is a must. If this isn't an option, a hand sanitizer with 60% or more alcohol is a good substitute.
It would be advisable to stay away from tasting room bathrooms and powder rooms, despite the establishment's best effort to keep them clean. This is because coronavirus lives the longest on flat surfaces that remain damp such as washbasins, taps, and doorknobs. Carry a travel-sized container of hand sanitizer if at all possible.
Finally, you should make sure to keep your distance from others, and most tasting rooms will be set up to accommodate for this. Ideally, the number of visitors per wine tasting will be capped and the seating arrangements should be designed to keep you away from other guests.
We strongly suggest you find wineries that are set up for outdoor tastings. There seems to be a growing consensus that the virus is less easily passed outside. Even with outdoor tastings, you should maintain a proper physical distance and wear a face covering.
Wine Tasting Room Safety
Running a tasting room safely is going to require a detailed plan that is well thought out. There is a lot to consider when you open to the public. The wineries must protect visitors and staff while still creating a memorable experience.
Here are a few guidelines and precautions you need to know when booking or attending a wine tasting during the coronavirus.
1.   HVAC Systems
If your tasting is inside, ventilation is very important. HVAC is the abbreviation for Heating, Ventilation, and Air Conditioning - better known as the climate control system. This is crucial because coronavirus can potentially live and spread through ventilation ducts. To prevent contamination, an HVAC system needs to incorporate top-of-the-line HEPA filtration.
The wineries should have already done maintenance to be 100% certain that their systems are in top shape. As a rule, the unit should be set for greater fresh air intake and less re-circulation. But then, the establishments also need to inspect the airflow between semi-enclosed spaces and private rooms.
Furthermore, HVAC returns are potential hot spots because most of the air goes through them. If you figure out your table is near that area, feel free to ask for a replacement. But most tasting rooms know the protocol and avoid seating visitors there in the first place.
There are wineries that don't have an HVAC system and that's perfectly okay as long as the room is properly vented. And if the room has a standard AC, the unit needs to be turned off.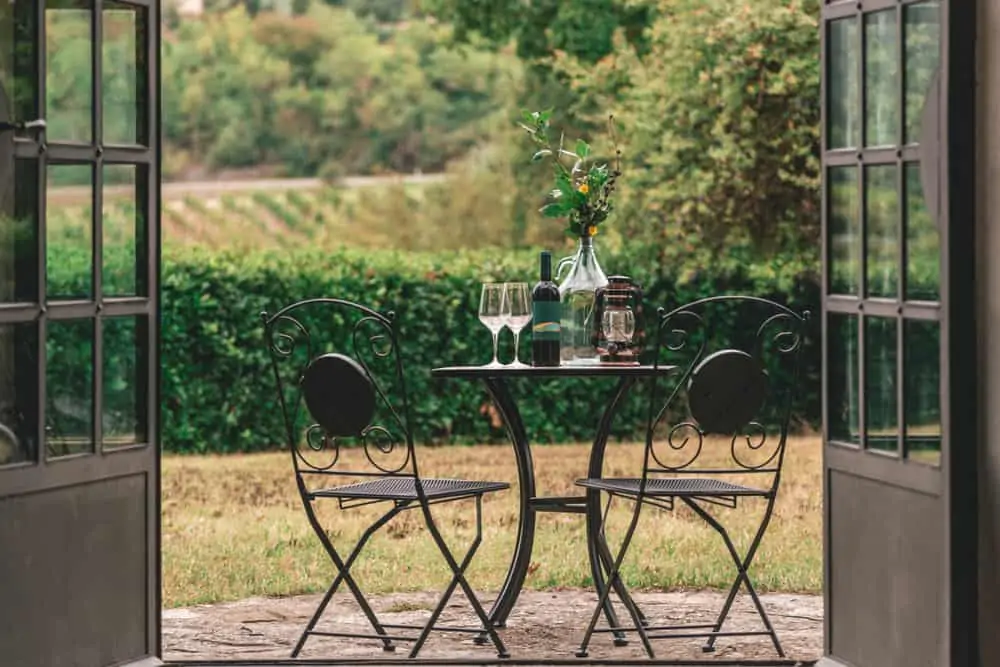 Don't hesitate to ask about this information when contacting the winery to book your tasting.
2.  Physical Distancing and Tasting Room Surfaces
Despite social distancing, some physical contact is necessary during the wine tasting. It's not like you're going to shake hands with your sommelier. But the wine expert and some of the staff will come into contact with wine bottles, maybe your glass, and the tasting counter.
This is why the tasting room needs to have a clear game plan on how to prevent contamination. And it's not only about wearing gloves and masks. The strategy to handle packaging, products, customer credit cards, and receipts need to be rigorous.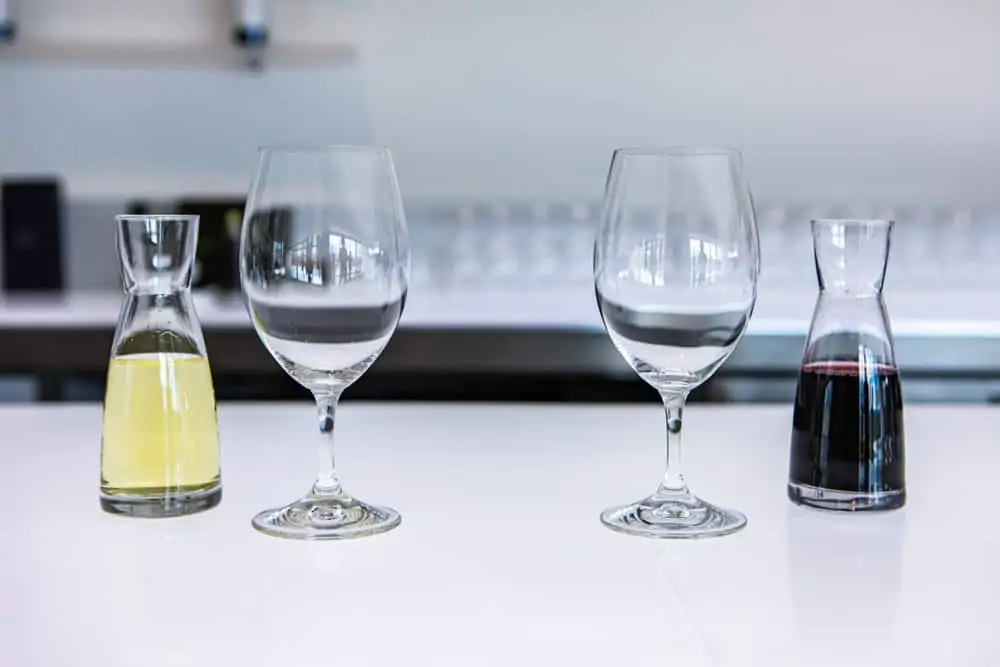 The winery staff needs to be properly trained and drilled on how to maintain a safe environment. They should be able to run through the required actions blind-folded.
Of course, any staff with symptoms should stay home. You should ask the winery how they make sure this is happening.
These are all things you should make sure the winery is on top of. Your job, when you are at the tasting room, is to adhere to the social distancing guidelines and avoid cash payments. Also, if you have symptoms, stay home!
3.  Look, Don't Touch The Merchandise
Chances are, you'll need to behave as if in a museum. You can look and admire everything you see, but keep your fingers and face away from the merchandise. Some tasting rooms will not sell merchandise right away. Others will have procedures in place for how you can buy any non-wine items. Make sure you follow the process they set out for this. Part of wine tasting safely may mean delaying the extra purchases until there is less risk.
Wine bottles and other merchandise should be sanitized and kept away from the public area. When you make a purchase, the staff member will bring clean items to you. And some wineries take extra precautions and use special packaging.
4.  Tasting Room Sanitation
Wine tasting rooms and cleaning products just don't go together. The smell of chlorine detracts from your experience and will affect the flavor profile of the wine you are tasting. Luckily, there is a solution.
If the establishment uses chlorine-based chemicals, there's should be a one or two-hour window between bookings. This will allow for chemicals to evaporate and for the smell to dissipate.
There are also special odorless agents and sanitation techniques that don't leave any residual smell. You can enquire about their cleaning methods before you book if this is important to you.
Either way, wineries have a good understanding of the problem and will inform you that the room is clean and ready to use. They want your visit to their winery to be safe just as much as you do.
With this in mind, you should also avoid hand sanitizers that have a strong smell. The fragrance might stick in your nose and prevent you from enjoying the wine. As said, a simple alcohol-based product does the trick and usually evaporates very fast.
5.   Other Precautions
Some tasting rooms might ask you to bring your own glassware. To make sure you get the sanitation right, you should clean the glass in a dishwasher and put it in a clean plastic bag. Then, take the glass out only when the tasting begins. If you are visiting multiple wineries, you may want to bring a few clean glasses on your trip.
You'll be the only one who touches the stemware and pouring should be done at a safe distance. After your tasting, put the glass away and it's off to the dishwasher again when you get back home.
Since they are working at half or third the capacity in order to allow for safe wine tasting, wineries might block every other parking spot. Don't let this bother you because it's for your own protection. And you're likely to be instructed where to park when you place the reservation.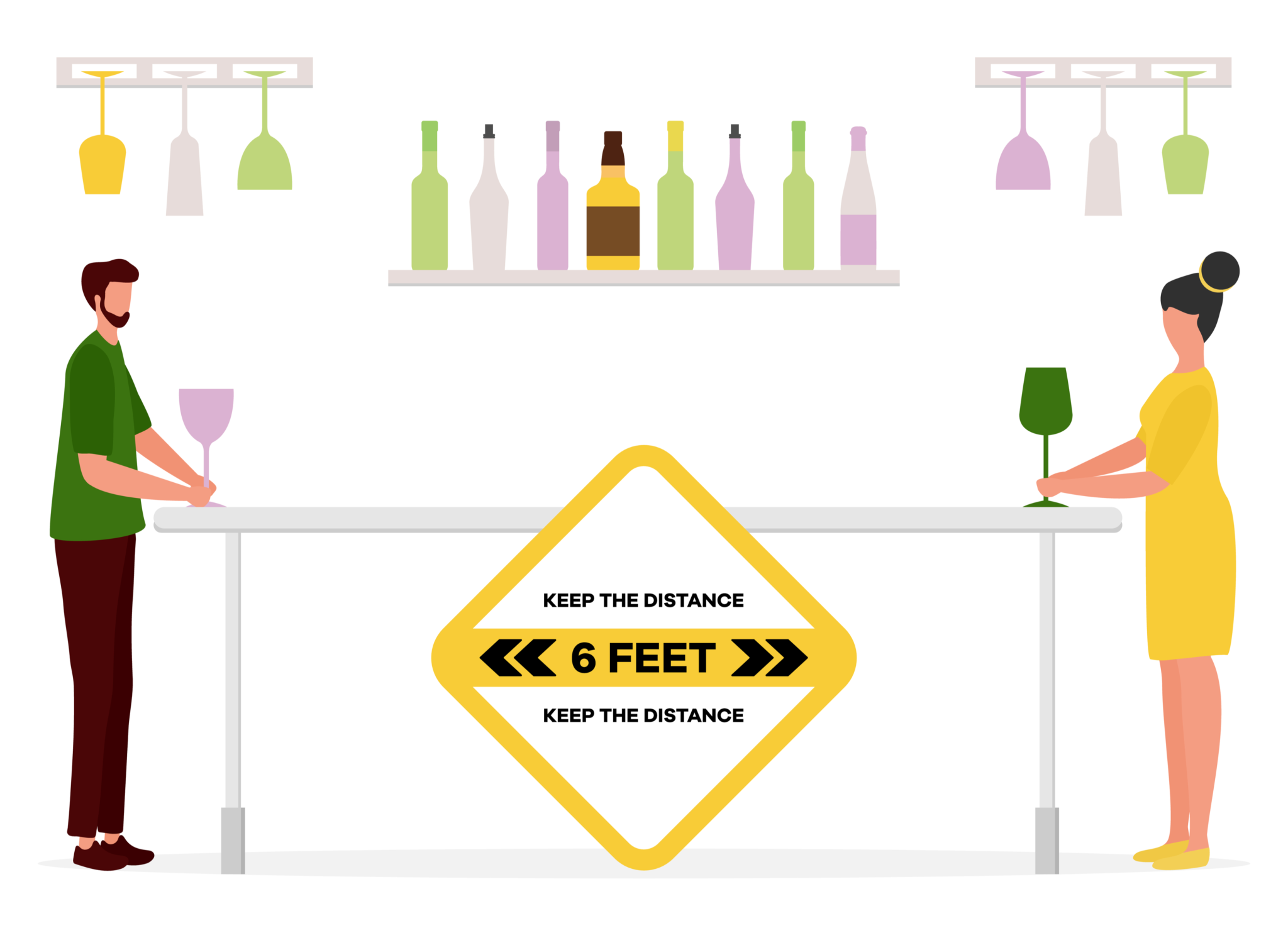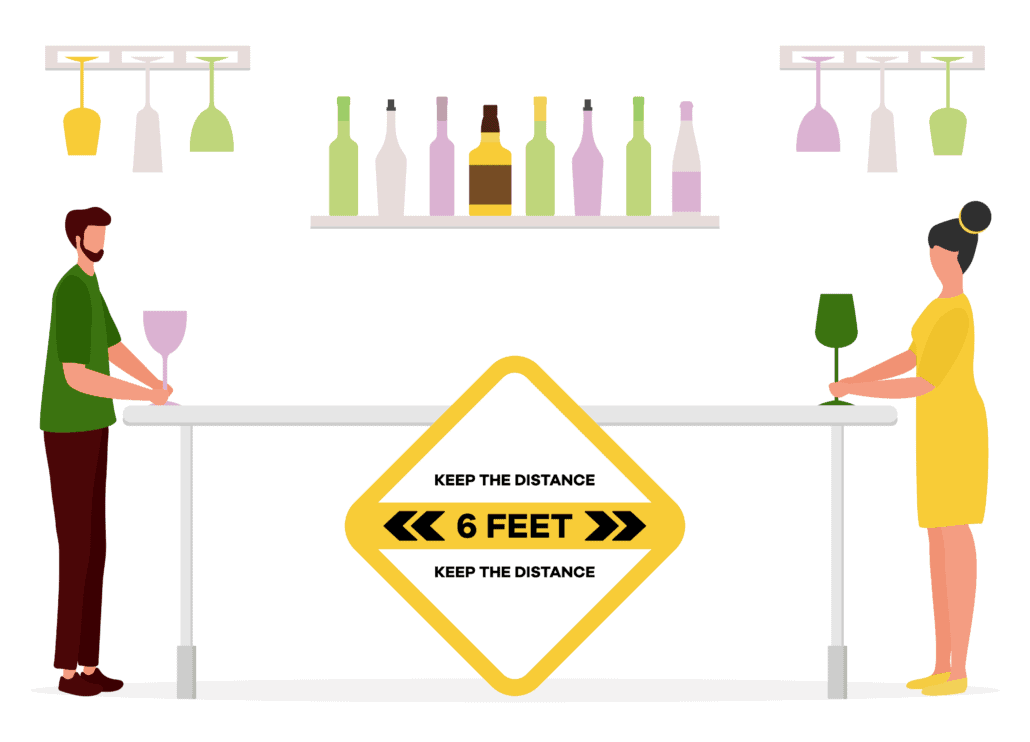 As we said, booking an outdoor tasting is among the most enjoyable options, even when there's no coronavirus. Temporary tents and gazebos are sprouting like mushrooms after the rain in wine country to accommodate open-air tasting. These are a great solution, but you still need to be aware of distancing and sanitation.
Until the pandemic is over, the establishments won't be able to provide water for you. Expect to be asked to bring your own bottled water, and it wouldn't hurt to sanitize the container if possible.
If you arrive for your tasting and the winery is crowded with people and they aren't wearing face-covering, we suggest you move on to your next appointment. 
What Happens If Someone Coughs or Sneezes?
One of the most annoying side-effects of the COVID-19 outbreak is the sinister reaction when someone sneezes and coughs in public. This isn't surprising given the way this virus spreads. But what is the right thing to do should this happen during the wine tasting?
For starters, coughing or sneezing without protecting your mouth and nose would be a violation of the Social Distancing guidelines. Due to this, the culprit and the people at the table might be asked to leave the premises.
But don't get this wrong, they're not being expelled from the wine tasting. However, the table and the room needs to be sanitized immediately, and the same goes for all the participants.
To prevent such a situation, you should excuse yourself and cough or sneeze outside or in the toilet. Sure, you need to keep a tissue or a paper towel over your face and throw it away as soon as you finish. Then you should thoroughly wash your hands.
RVs to the Rescue
It's okay to plan to tour the wine country this summer, but it's going to be a while before you feel comfortable to check-in at any accommodation. So your best bet is to rent an RV and look for wineries and areas that are suitable for these vehicles.
In some counties, there's little room for RVs, but certain hoteliers have found clever ways to safely cater to touring wine-lovers. They might offer to rent you a parking spot and the use of some in-house utilities. There are motels and hotels that would bring a meal to you, and do everything to make your stay less stressful.
Plus, there's an unexpected perk. To keep the ball rolling, a lot of hoteliers and wineries are offering extended discounts. If this might apply to wine club members only, but it's a thing to consider anyway.
Bonus Info on Napa County
At the time of writing, the California Department of Health allowed some Napa County businesses to reopen. This includes wineries and wine-tasting rooms, dine-in restaurants, and retail stores.
It's worth stressing that reservations are mandatory, except for retail stores. In addition, some hotels and motels accommodate essential workers only, which means they won't be able to cater to your needs even if they're open.
Conclusion
As you already know, there are safe ways to enjoy your favorite leisurely activity. And it shouldn't be tricky to find the wine tasting room that offers excellent wine and safety standards. So get ready for some wine tasting in this challenging time.