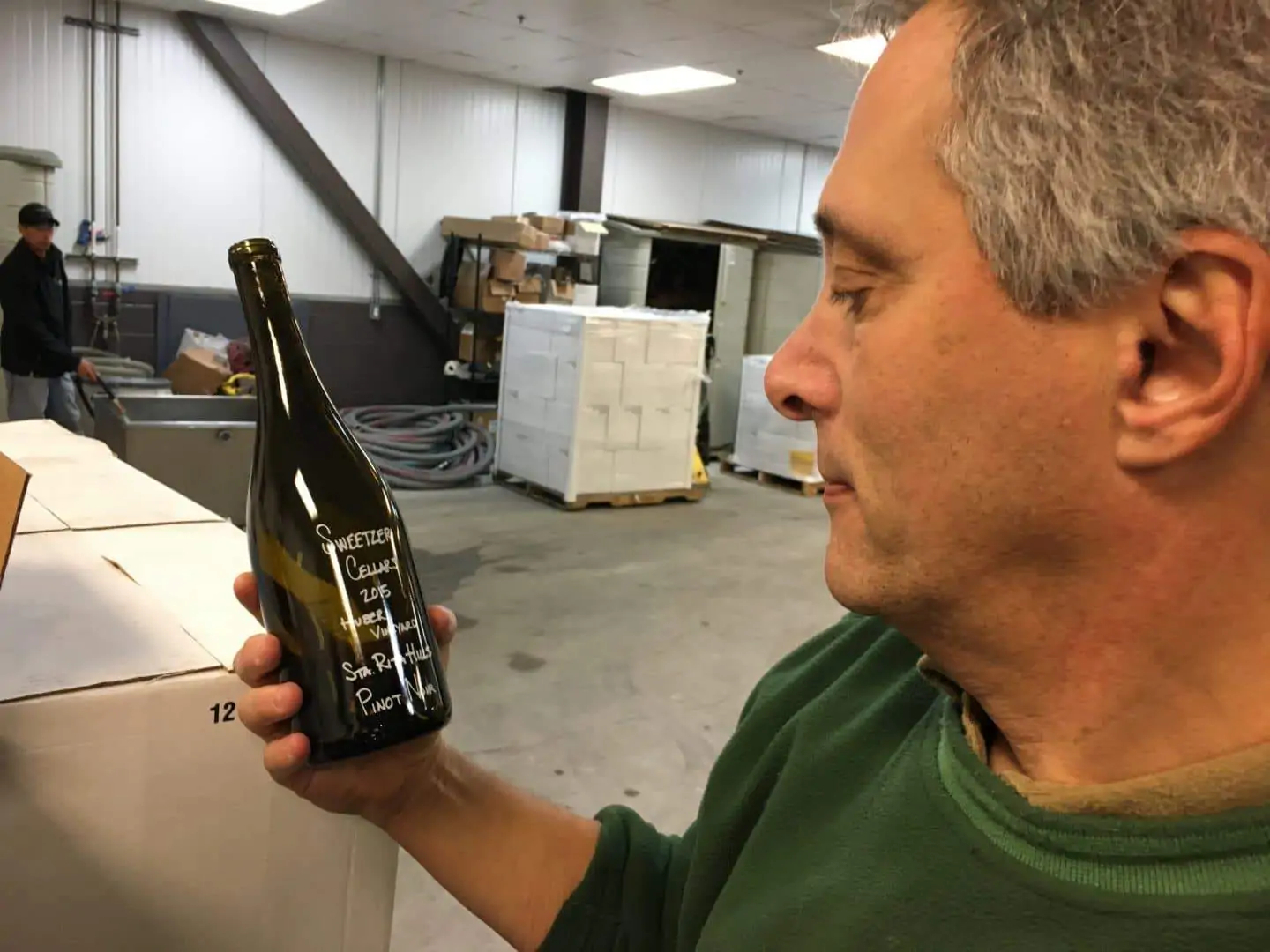 Lisa Liberati and Michael Fogelman are living every wine enthusiast's dream. After setting up a winemaking operation in the least likely of places, their Sweetzer Cellars label is taking off. We had a chance to catch up with Michael recently at the "Stars of Santa Barbara" tasting event hosted by WineLA. He gave us a blueprint for how aspiring garagistes can make it out of their garages!
Some interview highlights:
How the Sweetzer Cellars team managed to make wine in a small Hollywood apartment
Insights into finding and maintaining relationships with top growers
Some mistakes you can avoid when you start out
California Winery Advisor: Can you tell us why you decided to become winemakers?
Sweetzer Cellars: We started making wine in our second floor, white carpeted West Hollywood apartment on Sweetzer Avenue. We crushed in the carport, fermented in our dining room, pressed in our tiny kitchen. After two years, I bought a larger bladder press that we set up on the sidewalk of Sweetzer Avenue. We had 30-gallon French oak barrels in our bedroom (Francois Freres and Taransaud), because 60-gallon barrels would not fit through the doors. I broke down and bought our first air conditioner in order to keep the wine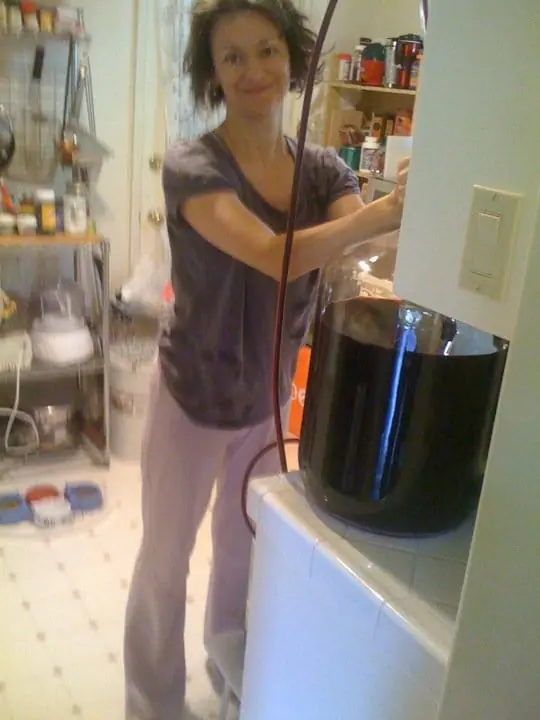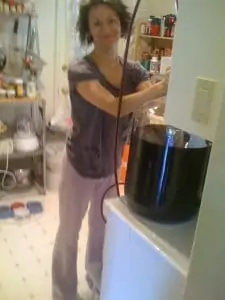 (and us) at 55-60 degrees.
I loved making the wine, and doing it in the apartment for five years was a great education. I liked to get my hands in the fermenting grapes and feel the changes in the skins as the fruit gave the wine everything it had. I learned the value of cold soaking using frozen one-gallon water bottles that took up our refrigerator and freezer (it took me a day to meticulously remove all traces of labels and glue from the one type of bottle that would work for the task).
I looked forward to making it every year and enhancing the quality of the wine with my growing experience. And, I learned the value of keeping everything clean. Our 2008 Cabernet, our first apartment vintage, drinks well to this day.
Making wine commercially was never part of a plan, but after five years of working in our apartment, we looked for a place to make it legally and became a bonded winery. The love of winemaking is still as strong as ever, but I miss waking up to the smell of fermenting grapes.
CWA: What resources did you use to learn the art and science of making wine?
Did you have mentors? Are their winemakers you modeled yourselves after?
SC: The decision to make wine occurred after Lisa and I joined a U.C. Davis group studying winemaking in France in the summer of 2008. It was us (clearly not college aged) and 30 undergraduates who were thrilled with the opportunity to drink legally. While I didn't learn all I needed to on that trip, I was definitely influenced by the winemakers and wineries we had access to.
Our first visit was to Clos Vougeot in Burgundy. The winemaker was meticulous, and the winery was immaculate. They talked about picking
individual berries from clusters for some of their wines (something that we could or would never do), and sanitizing the floors of the winery every night. What was communicated there and at other wineries we visited (Louis Jadot, Mt. Redon, among others) was passion and commitment -- if you're going to do it, do it right. No unnecessary shortcuts or compromising. That was the biggest lesson for me from the trip.
On the trip, we met an older undergraduate (late twenties) at the U.C. Davis winemaking program who worked in Napa. He was able to source grapes for us our first few years.
Ultimately, I learned on my own by doing it (sometimes racing to look something up on the internet) and by trying to add a new dimension to the winemaking every year (temperature control, chemical analysis). Our first three years we made Cabernet, then we switched to Pinot from the Central Coast. Pinot is our first love, and we tasted as much as we could to get a sense of what we wanted to do.
Our epiphany came from a bottle of the 2003 Tandem Keefer Ranch Pinot, one of whose winemakers was Greg La Follete. I've never met Greg, but he's someone whose philosophy, knowledge, and craft I admire. We are also big fans of DuMol and their approach to making Pinot.
CWA: What challenges did you face as garagiste winemakers in Los Angeles? Any
funny stories to share? Major failures?
SC: There were a number of challenges along the way, none of which seemed that big at the time but might stop me in my tracks now.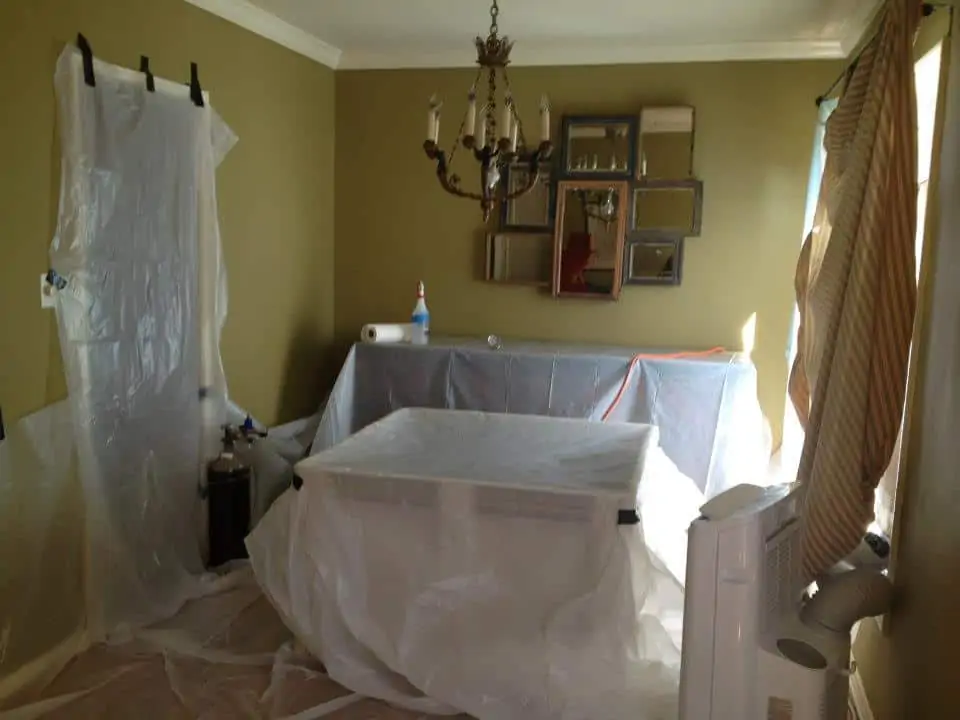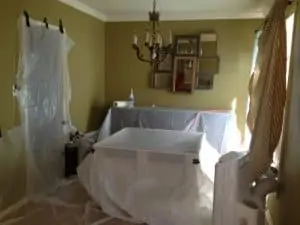 First, hauling a ton of grapes down from Napa and Sonoma our first three years in a van, and trying to get home in time to crush in our carport without angering our neighbors. Our third year we picked the grapes ourselves in Sonoma's Alexander Valley in order to learn what that was like. We didn't get back to West Hollywood until 11:30pm, and we considered stomping on the grapes ourselves in the macrobin in our dining room and pulling out the stems by hand. Instead, we decided to cold soak the grapes until the morning.
Our first few years we didn't have an air conditioner, and our sunny, second-floor apartment would reach 100 degrees fairly easily on the worst L.A. Indian summer days. I placed large bags of ice in front of fans that would blow the slightly cooled air on our barrels. I would also place our 6-gallon glass carboys in our bathtub that I kept filled with ice water (I did something similar with our 15-gallon stainless kegs to accomplish cold stabilization). Those apartment wines remain remarkably fresh and drinkable to this day.
My biggest failure in our home winemaking was the year I tried out a system for transferring wine from our barrels to 15-gallon kegs. I was using argon gas and a set-up that I thought would allow me to do it without ever exposing the wine to air. I didn't realize at the time that the system was not meant for this kind of thing. I got to work in our bedroom, and I had successfully done the transfer. I turned off the gas that pumped argon into the barrels and forced wine through tubing into the tanks. It didn't occur to me, however, that even though I turned off the argon tank, there was still pressure in the barrel (a lot). When I disconnected the tubing from the keg, the wine shot out with the force of a fire hose. I struggled to control it as I sprayed our bedroom with wine! Everywhere. I finally managed to retrieve a bucket and let the pressure slowly die down. Lisa and I cleaned up, but a couple of months later we were lying in bed when Lisa pointed to the ceiling above us. Wine we never got to.
CWA: What were the biggest lessons you learned when you started out? What
advice would you give to aspiring winemakers?
SC: The biggest lesson we learned right at the start is that it's all about the grapes. You can't make great wine without great fruit, and that means both the vineyard and the farming. We limit our production according to our access to great vineyards and vineyard managers.
The second lesson we learned is the value of cleanliness. We were meticulous with our first vintage, probably overly so, rinsing everything in a sterilizing solution before and after it touched wine. As a result, pressing our first ever vintage, a Cabernet from Sonoma,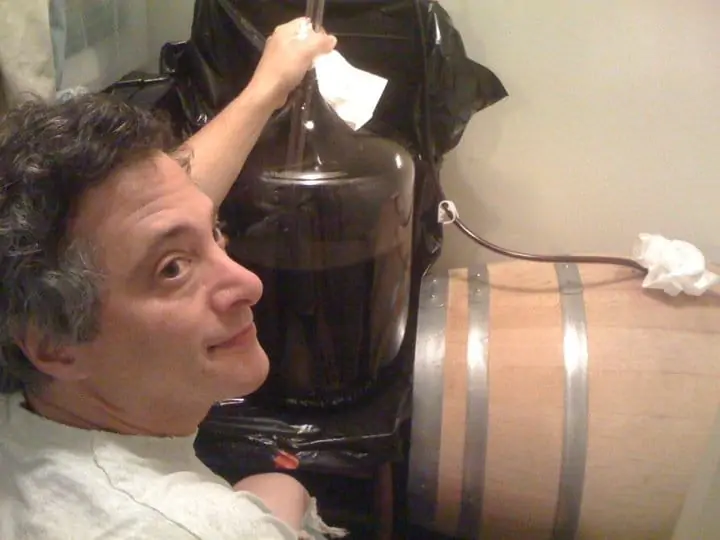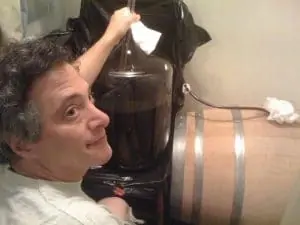 took from 7:30 pm to 2:30 am using a small basket press in our very small kitchen. We never had any VA or microbial issues in our winemaking.
Finally, minimal intervention. Let the grapes and earth speak for themselves.
CWA: How did you decide on the vineyards you are working with? How involved
are you in the growing process?
SC: Our first couple of years making wine in our apartment we sourced grapes on the recommendation of our friend who worked in Napa. Starting in 2011, our fourth year in the apartment, we began researching Pinot vineyards in the Central Coast and talking to winemakers and vineyard managers ourselves.
Our breakthrough came when Presqu'ile Vineyard, and their manager Jim Stohlberg, sold us a ton of grapes for our apartment wine in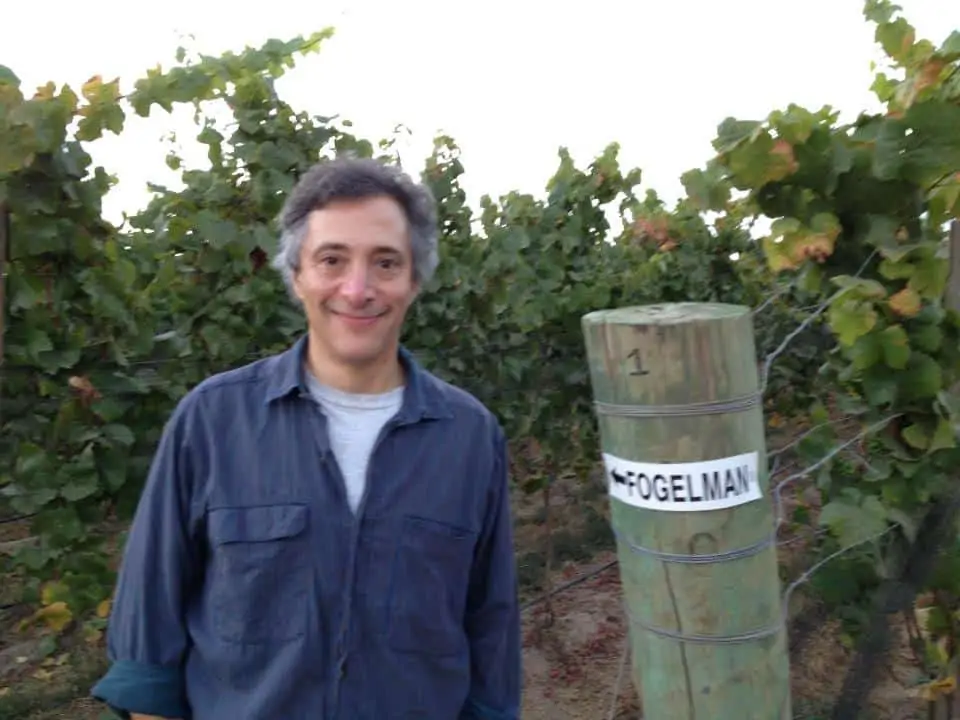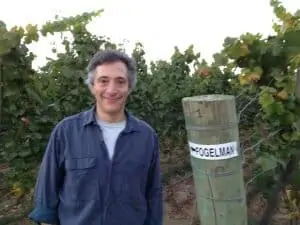 2012. We have great admiration and fondness for the people from Presqu'ile, not only for being so generous with us, but for their friendship and their commitment to farming and making wine the right way. That connection led us to other vineyard managers and ultimately to getting into vineyards like La Encantada, Rita's Crown, and Huber.
We tend to let the vineyard managers handle the farming, but we communicate with them about the type of Pinot and Chard we're trying to make and talk about cropping, canopy management, harvest dates, etc. They know far more about farming than we do, and when you work with great managers, you can trust that they will do everything in your interest.
CWA: How did you decide it was time to elevate your game and move production
out of your home?
SC: After making two different lots of Pinot in our apartment in 2012, we decided it was time to go legal and be able to sell the fruits of our labor and love. Gaining access to bigger and better equipment was a draw, as was being able to produce more wine (which helped if we expected to be sold fruit from the vineyards we wanted to work with).
CWA: Can you tell us what it's like trying to build a wine business from the
ground up? How do you get financing? Which tools and resources have you used to
manage the business? What is your biggest business challenge?
SC: The wine business is a difficult one. We are totally self-financed, having turned down any offers of assistance or investment. We like our independence, and ultimately we want to answer only to ourselves and the standards we set for our wines. Our day jobs are as college and graduate school test prep tutors, and we normally work seven days a week. As harvest draws near, until the wine is in barrels, I'll drive from Hollywood to Buellton almost every morning at dawn. I take care of what needs to be done (still getting my hands in the fermenting grapes and smelling the must), then drive back home to begin tutoring.
One of the financial issues in being winemakers trying to make premium wine is the lag between harvest and actually releasing our wine. We harvested our 2014 fruit in September of that year. After fermentation, the wine was aged 18 months in barrels. We usually let our Pinots rest in bottles for one to one and a half years after bottling. That's a large cash outlay before ever being able to sell our wines. We recently tasted our 2014 Pinots and they're already drinking well. We've begun to sell them, and they'll continue to evolve and improve with aging.
Of course, you can cut corners or lower your standards, but for us, being so small and trying to make great wine, we take the longer term approach. The competition is tough, although one of the great aspects of doing this is the community and camaraderie that exists among the winemakers in Santa Barbara County. Getting people to taste your wines is not easy, nor is trying to sell a new, relatively unknown wine to skeptics. All of that said, Lisa and I feel incredibly fortunate to be able to pursue our passion and to have had the success we've had so far.
CWA: How do you sell your wine? What is the most effective way you've found to
market your brand? Do you have a consumer segment in mind when you are
planning which wines to make?
SC: We sell almost exclusively direct to consumer. We pour at a few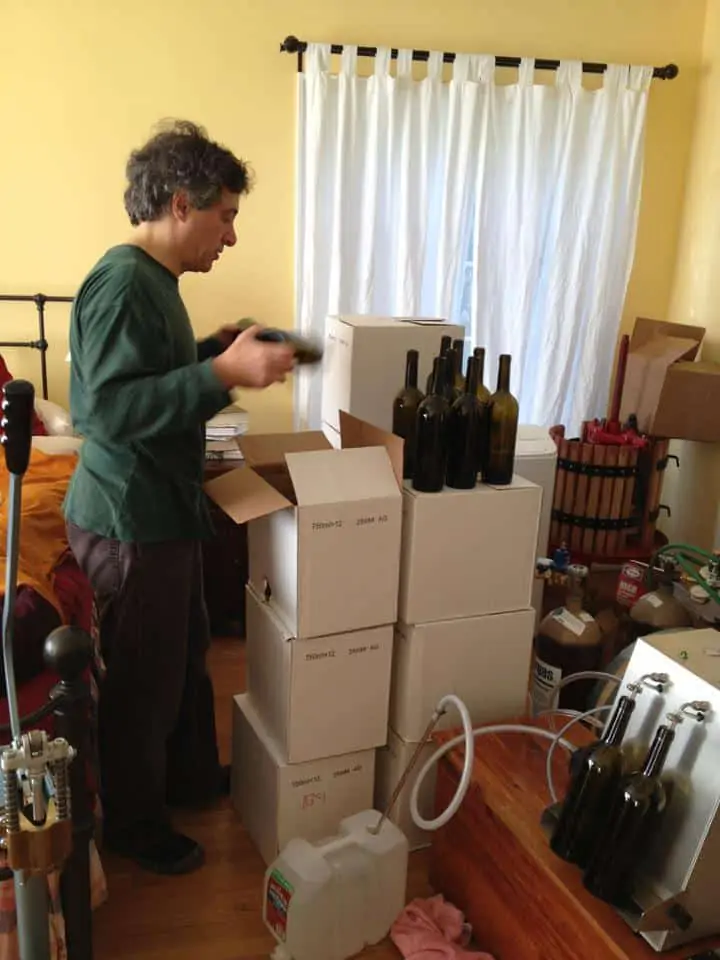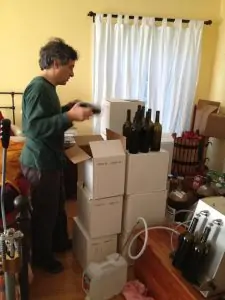 festivals and wine events, we've taken our wine to a few of the smaller, more boutique wine stores in our area, and poured our way on to a few wine lists. The one thing other winemakers have told us is that they wish they'd stayed smaller and avoided big distributors, and we've taken that advice to heart. Many of the winemakers we admire hold their wines a long time before release, and we've found that our wines keep improving in the bottle (and even a few days after we open them), so we'd rather expand our sales slowly. By eliminating the middleman, we can keep our prices lower and over-deliver value to the consumer.
The only consumer we have in mind is us. We make wines that we want to drink. (If the wine business doesn't work out, we'll have to!) We're not chasing points, or ratings, or collectors who are just going to stash our wine in the cellar, brag about finding it, and then never pour it for their friends. We make wine that you want to share with people you like over a meal that you or a great chef has lovingly prepared.
The events we choose to pour at always have a charity component. We've financed our wine with our work as tutors, and educational causes are near and dear to our heart. To that end, we have started the Pi Project. Pi, for those of you years out of high school, is 3.14 (it actually goes on forever), and is used for calculating area and circumference in circles. We donate 3.14% of our gross sales to support educational charities and organizations in Southern California. We also donate wine to support causes we believe in. In 2016, we donated over $8000 of wine (our cost) to various organizations in the Southern California and Central Coast regions. All of this is our way of giving back, or coming full circle, in our careers. This year, Lisa is participating in Chefs Cycle, raising money for No Kid Hungry, which is part of Share Our Strength.
CWA: Is there any technology that has made the winemaking process easier for
you as you've grown?
SC: Our philosophy and approach haven't changed as we've grown our production. We still make wine the way we did in our apartment, trying to keep the winemaking as clean and simple as possible. Having easier access to labs has helped us better monitor what is going on in the wine, but I still drive from Hollywood to Buellton every morning around 5am during harvest to smell the fermenting grapes and get my hands in the must to feel the skins. One of the benefits of staying small is being able to monitor everything carefully and being able to use the latest technologies and equipment at our discretion, rather than having to use it for expediency's sake.
CWA: Is there a wine you are proudest of? Why?
SC: We think our 2014 wines are the best wines we've bottled to date. Our Pinots are very different from each other and expressive of the places they were grown. Our Chardonnay is the closest we've come to making the Chardonnay we set out to make, combining great fruit with complexity, acidity, richness, and mouthfeel (a target we will continue to strive for but understand is ever elusive).
In the end, we're proud of every wine we've made. We still love opening our apartment wines and remembering the joys (and a few small disasters) that were part of their raising and our education.
CWA: Where can we buy your wine?
SC: You can buy our wine on our website at www.sweetzercellars.com. Some of our wines are also available in wine stores and restaurants around the L.A. area. We also have hosted tastings in the area, and love pouring our wines for fans and newcomers. You can always contact me or Lisa at Michael@sweetzercellars.com or Lisa@sweetzercellars.com. We love talking wine, and would be happy to talk by phone or in person if you reach out to us.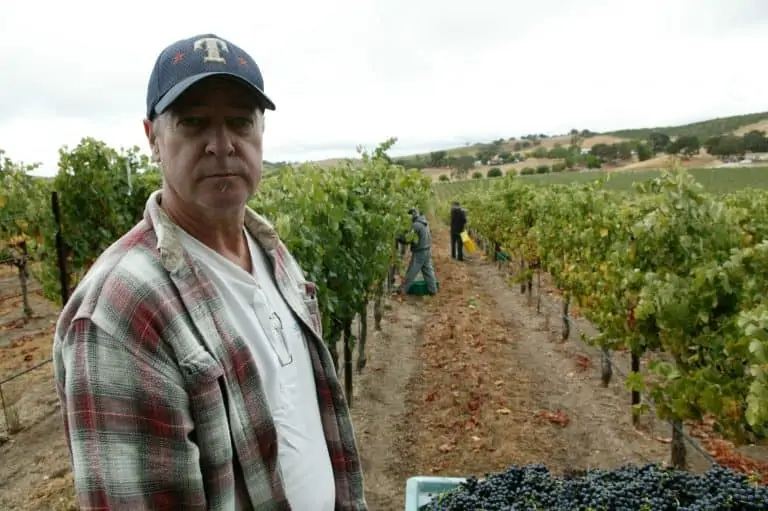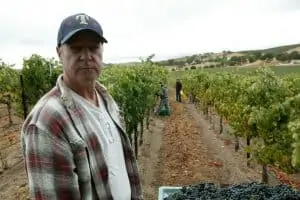 California has over 4,000 bonded wineries. The typical supermarket shelf is dominated by a handful of corporate wineries. Even markets with rows and rows of […]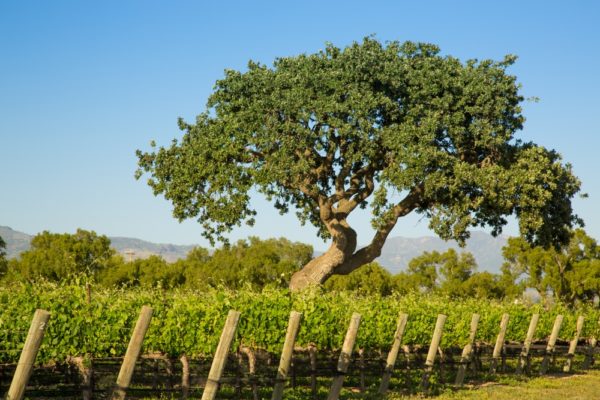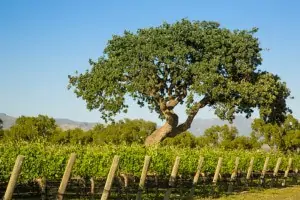 So what makes visiting the Santa Ynez wineries so special?  The stunning backdrop of golden hills, coupled with the breathtaking beauty of rolling vineyards, creates the […]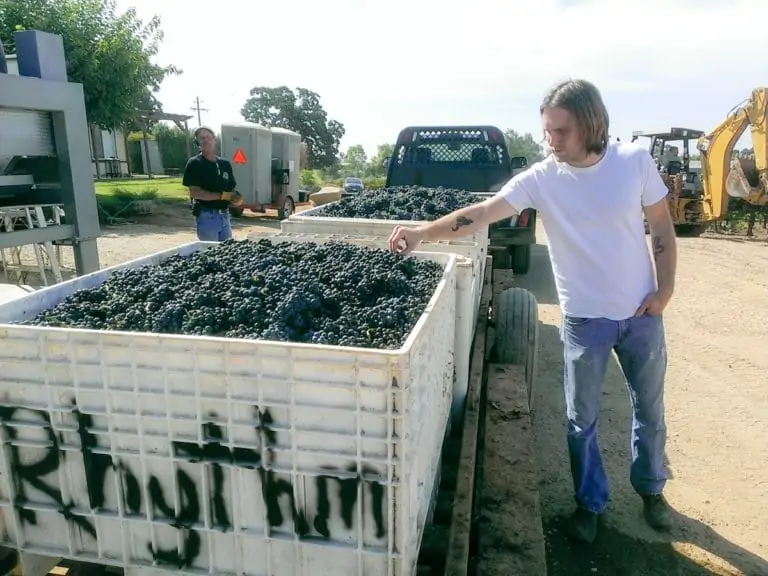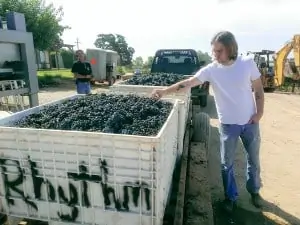 Jasper Dickson is a true garagiste winemaker. Though he works retail at Silverlake Wine in Los Angeles, he moonlights as a small-batch producer under his […]