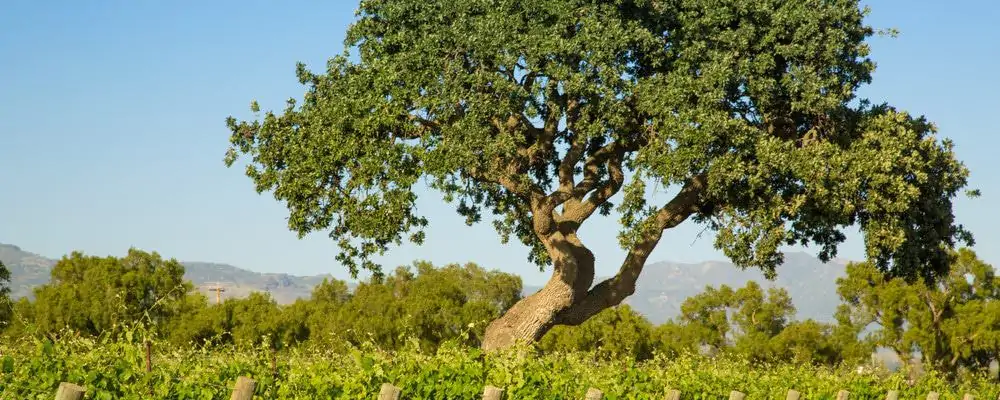 So what makes visiting the Santa Ynez wineries so special?  The stunning backdrop of golden hills, coupled with the breathtaking beauty of rolling vineyards, creates the perfect setting for wine-fueled explorations. Visit beautiful vineyards, sip and savor the local flavors and try to expand your knowledge of local varietals such as Syrah, Chardonnay, Sauvignon Blanc, Pinot Noir, and Cabernet Sauvignon in the same itinerary.
Santa Ynez wineries present wine tasting at its bea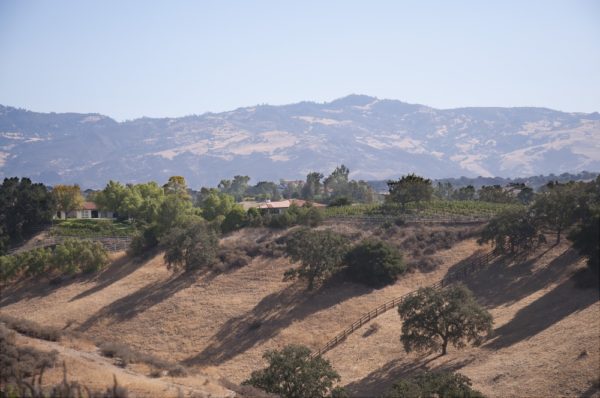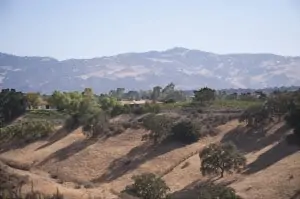 utiful best and just about everything is located within an easy drive, or in the case of Los Olivos, walk. Here is an itinerary that lets you explore the best of Santa Ynez wineries in a single weekend.
Day 1 - From Solvang to Santa Ynez Wineries
Start off your adventure in Solvang, a quaint little village that calls itself the Danish Capital of America. It is full of beautiful windmills and is home to an incredibly friendly set of locals. You might even remember the town from the movie Sideways. Founded by Danish Americans in the year 1911, Solvang makes you fall in love with its cobblestone streets, kitschy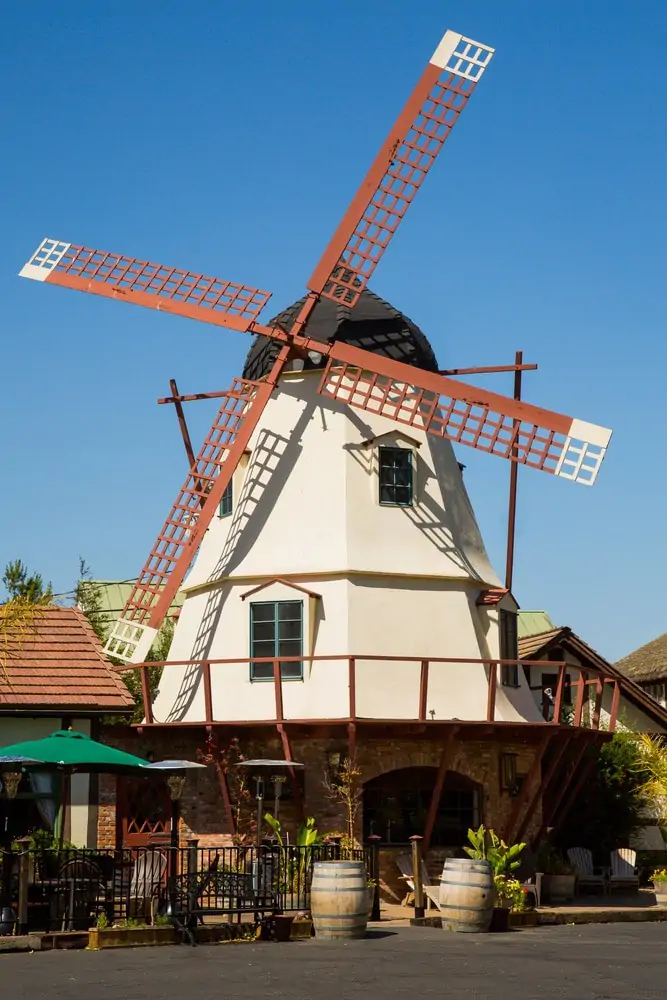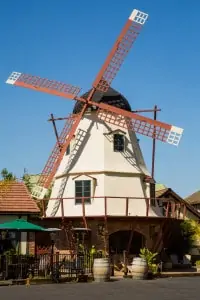 atmosphere and gingerbread architecture.
Late Breakfast at the Succulent Café
All that driving or flying is sure to make you hungry. Assuming you arrive just in time for late breakfast, the ideal place to visit is the Succulent Café. Most dishes are accompanied by home cured bacon and home-made biscuits. The mimosas served here are exceptionally good, as are the Bourbon Vanilla French Toast and Succulent Eggs Benedict. Don't forget to take a cheese plate with you to accompany all those wines you're about to taste.
Wine Tour at Pence Ranch (Reservation Required)
Pence Ranch, one of the top Santa Ynez wineries, is a small family-owned winery that is located on an actual cattle ranch. The owners have managed to preserve a way of life that can only be described as old-world Californian and they let you explore this beautiful world through wine tours and wine tasting experiences. Take your time exploring the vineyard, the olive orchard and the ranch and complete your experience with a delightful glass of chardonnay.
Wine Tasting at Lompoc Wine Ghetto
That glass of Chardonnay prepares you for the Lompoc Wine Ghetto, an industrial park where many of the best local producers have set up shop. You won't see any vineyards here, but you will certainly sample some of the most famous wines produced in the valley. Make sure you stop by Pali Wine and Stolpman Vineyards while you are there!
Take a break and drive the Honen
To understand what makes Solvang click, explore the town in a 1915 streetcar replica. The car is pulled around the town for close to 20 minutes by Belgian horses and is the perfect way to feel the Danish spirit. If you're interested in learning more about the local heritage, consider visiting the Elverhoj Museum of History and Art.
Dinner at S.Y. Kitchen
Travel to Santa Ynez for dinner, as this is where you'd want to put up for the night. The S.Y. Kitchen is a beautiful rustic Italian kitchen that presents delicious hand-crafted cocktails and excellent dishes such as beet salad, braised lamb shank, octopus salad, and salmon puttanesca. After dinner, head over to your hotel, the Santa Ynez Inn for the perfect end to your picture-perfect day at one of the best Santa Barbara County hotels.
Day 2 - Los Olivos Wineries
Waking up in Santa Ynez has its charms. It becomes difficult to tell whether you're in the year 2015 or are still living the 1880s. You'll also be happy to realize you are still in the midst of all the amazing Santa Ynez wineries!
Breakfast at Longhorn Coffee Shop
Start your day at the Longhorn Coffee Shop, the go-to place for breakfast. This beautiful café has been serving up the best breakfast for close to 40 years and it is exactly how you want your mornings to be.
Visit Santa Inez Mission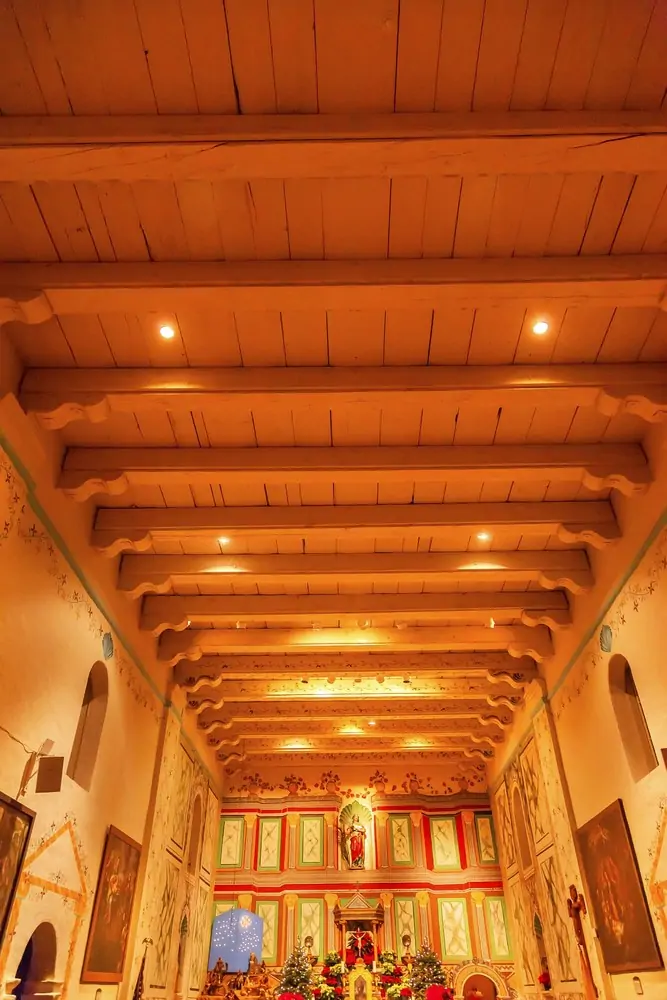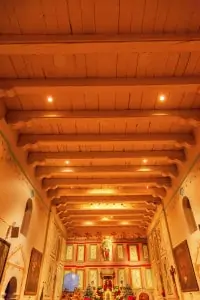 Visit the Santa Ines Mission, an active parish church that dates back to the year 1823. The views from this historic structure are considered to be the very best and the interiors are equally beautiful. The church hosts a delightful collection of paintings, artifacts, manuscripts, and statues that are best explored with the help of an audio tour.
Visit the Foxen Winery
The Foxen Winery is one of those Santa Ynez wineries that simply cannot be ignored. We feature Foxen on our list of the best Santa Barbara wineries. You might remember it from the movie Sideways, but once you visit the winery, you tend to remember it for its fascinating wines and beautiful personality. Headed by a winemaking couple, this winery presents a range of vineyard-focused wines. You can also choose from an impressive list of varietals that include Bordeaux, Italian, and Burgundy varietals.
Lunch at Panino's or Sides Hardware and Shoes
Panino Sandwich Shop is a local favorite and is known for its fresh soups, salads, and sandwiches. The lines can get long, but it's worth the wait. It's also important to get something in your stomach that will absorb the afternoon wine.
Sides Hardware is a bit more upscale than Panino's, so if you are looking for more a of full-service lunch, this is your spot. The food at Sides is exceptional. Don't miss the pork belly tacos and the calamari! We included them on our list of the best restaurants on the central coast.
Feel free to take time and enjoy your meal because you are only steps away from over 25 tasting rooms that feature some of the best wine in Santa Barbara County. By now you should be starting to understand what makes Santa Ynez wineries so special.
Wine Tasting in Los Olivos
The options feel almost limitless in this quaint wine country town. You can start with some of the big names like, Andrew Murray or Qupe and then branch out and explore interesting tasting rooms like Artiste.  You can go on a mission to find the best Pinot Noir in Santa Barbara County. Why not go on an adventure to find varietals you've never tried before? There are many ways to slice and dice what feels like wine tasting nirvana and it's all done on foot.
Visit Antique Shops in Los Alamos
If you are looking for a diversion from all the wine tasting, you can take a trip to the Los Alamos antique shops. You can also spend some time in the very first craft beer tasting room, Babi's Beer Emporium.
Dinner at Full of Life Flat Bread
Full of Life Flat Bread is your go-to for dinner. This production bakery is converted into a restaurant for the weekend and is an ideal place to dine with the locals. Gather around the stone hearth and treat yourself to some of the best flatbreads on the planet.
Head back to your hotel for the night and dream about Santa Ynez wineries!
More resources for your visit:
10 Best Santa Barbara Wineries to Visit
Top Santa Barbara Wineries "off the beaten path"