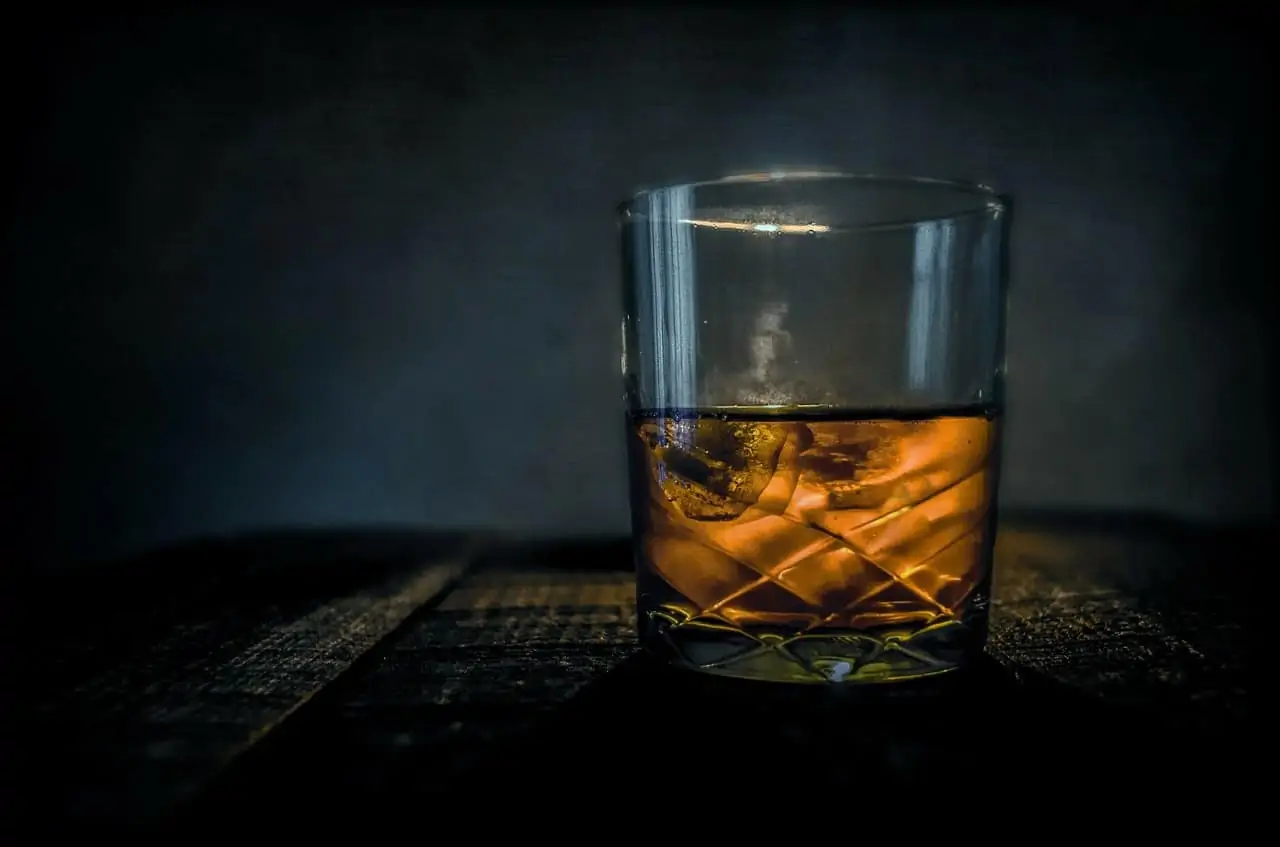 The 25 Best Bourbons
Are you ready to try the best bourbons? In 1964, Congress declared bourbon the only native spirit in America. Invented in Kentucky in 1789, this drink has become one of the staples of US culture. And nowhere is it as cherished as in the Bluegrass State.
With 7.5 million barrels of bourbon in inventory, there are almost two barrels per every Kentucky resident. If you want to get a sip of some high-end bourbon, picking up a bottle from a Kentucky distillery is usually the best choice. We've compiled a list of some of the best sipping bourbons and bourbon brands. These need to be on the bucket list of every spirits connoisseur.
[note] This post about the best bourbon whiskey contains affiliate links, which means that if you click on one of the product links and decide you love what they have to offer, we will be compensated.
Love bourbon whiskey? Consider joining a whiskey of the month club or check out our list of the best gifts for whiskey lovers.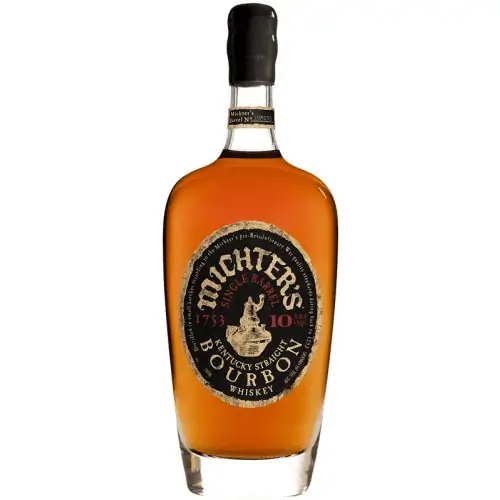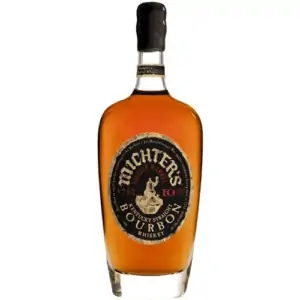 10 years in the barrel were more than enough for Michter's to mature and develop a rich flavor profile. On the nose, it provides immersive caramel corn and toasted wood notes with a hint of buttery toffee.
The finish comes with a pleasant burn to excite your palate some more and break off the mid-palate sweetness.
The 10-year is often hard to get. You can see some other options for this fine bourbon by clicking here.

Looking for the perfect top-shelf bourbon to round off your meal? Four Roses Yellow Label is there to deliver. This is one of the most popular and versatile bourbons out there and it works like charm in cocktails and on the rocks. But drink it neat if you want to excite your palate with the full flavor profile.
At first sip, the oaky note dominates the aroma, then it develops into a refreshing succession of cherry, honeysuckle, and poached fruits. Yellow Label has a medium silky texture and it leaves a pleasantly smoky-sweet aftertaste as it oozes down your throat. 
Click here | Check price and delivery options for Four Roses bourbon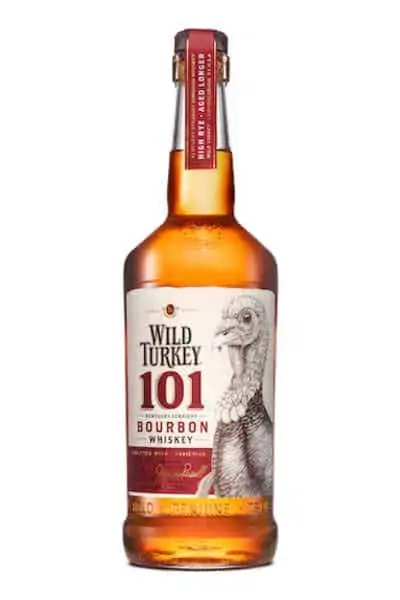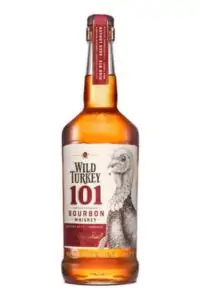 The 101 in the name points to Wild Turkey's proof, which means this bourbon has 50.5% ABV. But the high alcohol content is perfectly incorporated into the drink, so you shouldn't think twice about enjoying a glass or two.
Wild Turkey is aged in heavily charred oak barrels, which shows in its rich smell and taste. Upfront, you get a distinct smoky note, the middle brings up citrusy fruits and a touch of orange zest. Given the high alcohol content and fruity profile, this bourbon has an intense yet pleasant finish. This may not be the smoothest bourbon around, but it is enjoyable to drink.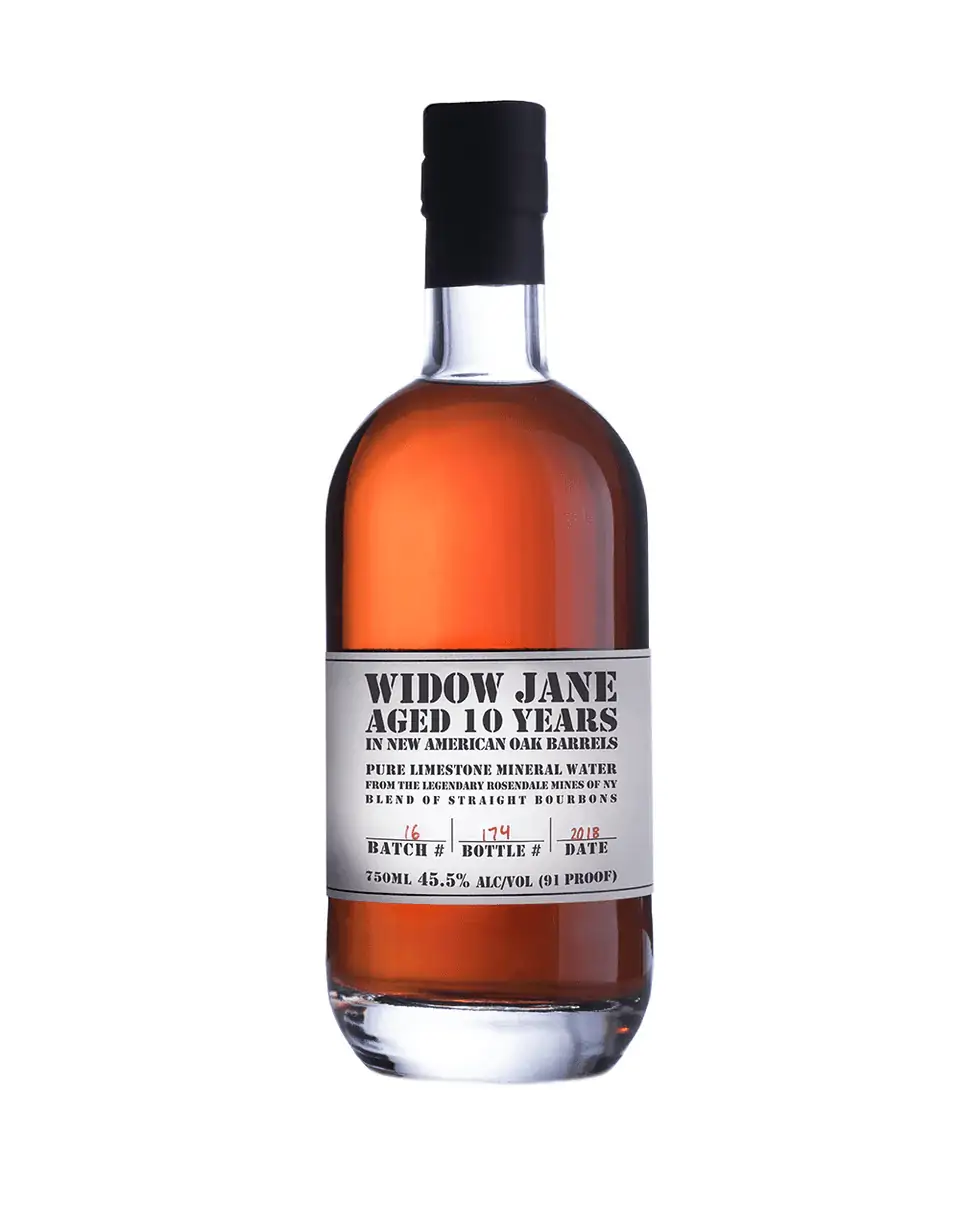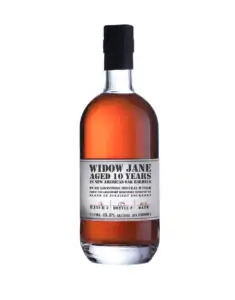 Do you ever think about how important water is when making great bourbon whiskey? Most of us don't give the water source a second thought when picking out a bottle. Luckily, the folks behind Widow Jane do think about these details.
The Widow Jane 10-year bourbon uses water sourced from the Rosendale Mine in NY to craft this exceptional whiskey. You will notice the impact it has on the mouthfeel. Expect aromas of toffee and cream. On the palate, you will experience honey flavors followed by charred oak and spicey orange.
You can order a bottle by clicking here 
The wax-coated seal on Maker's Mark is there to hint at the abundant flavor profile inside. At the front, this top-shelf bourbon is packed with vanilla and caramel flavors. However, the mid-palate reveals subtle notes of fresh orchard fruits.
As for the end, you get a beautifully complex finish. It's dry and long, offering palatable notes of oak, corn, and some more caramel. Plus, you get a pleasant burn with some spices in the background. This is consistently one of the best bourbons that are widely available. It's a great bourbon to make a whiskey sour with or sip on its own.
Ready to get your own bottle? You can find a great deal on Maker's Mark bourbon here.
A few things make Stillhouse more than just a good bourbon.
The packaging will surely catch your eye. Stillhouse uses stainless steel cans with a classic, powerful design.
The flavor profile is dominated by sweet notes, partly owing to a unique mash bill blend of barley, corn, and rye. In addition, the Stillhouse Black bourbon has a pronounced coffee finish that lands as a great climax after the initial sweetness.
To order this fine bourbon | Click Here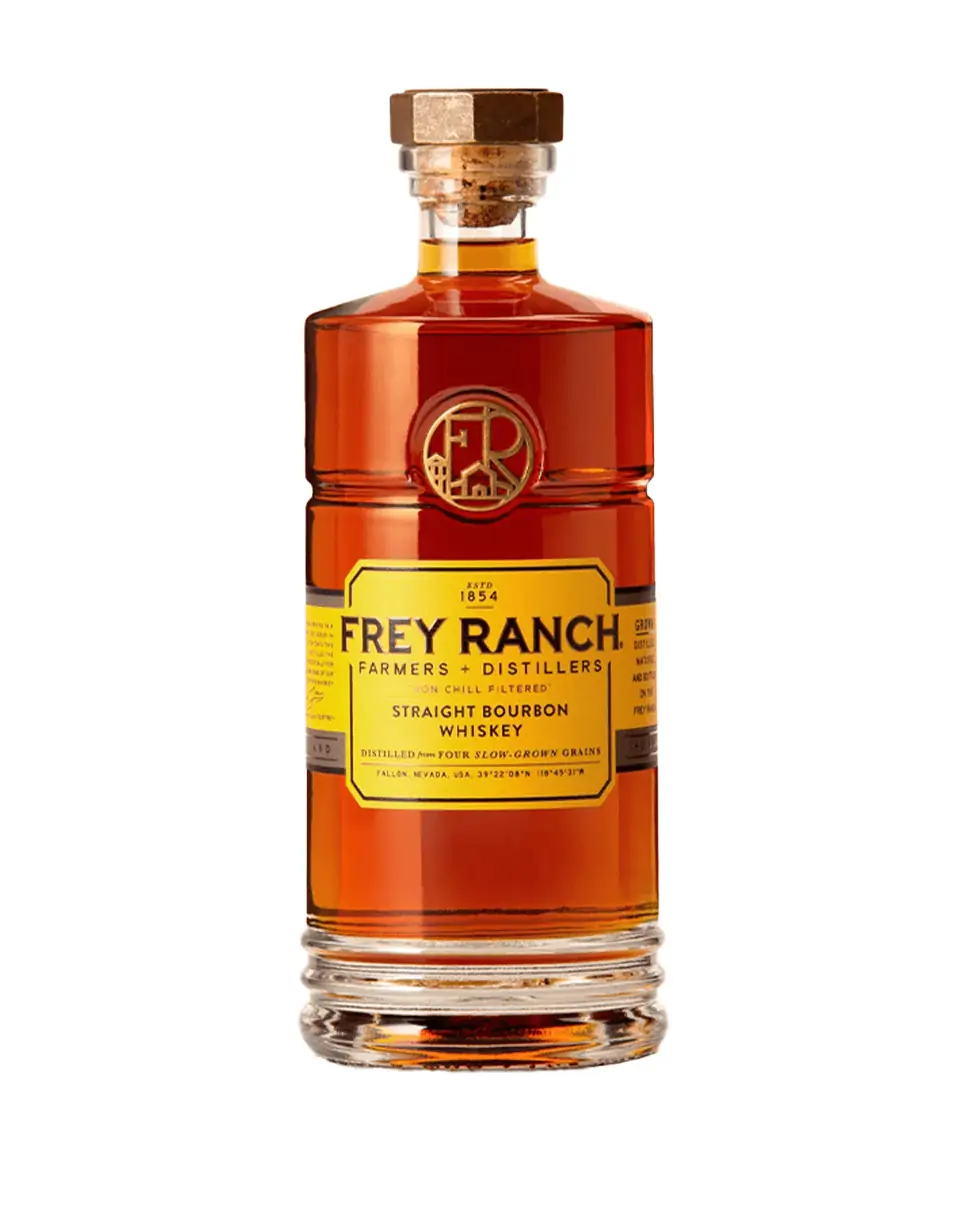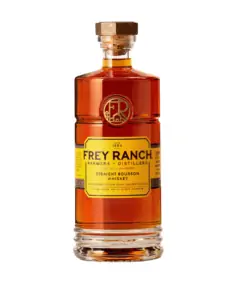 You don't often hear Nevada mentioned as a place to find the best bourbon whiskey. And not many of the bourbons you find online are grown and distilled in the same place. That's what makes Frey Ranch Four Grain Straight Bourbon unique. That, and the fact that it's a women-owned business.
You may be thinking, that's all great but what about the quality? Frey's bourbon won the gold at three prestigious whiskey competitions in 2020 alone.
When you take a sip of this bourbon, you can expect citrus and honey on the nose. You will get tropical fruit, caramel, and vanilla on the palate with a spicy finish. It's truly a delicious bourbon.
Click here to order a bottle of this top bourbon online.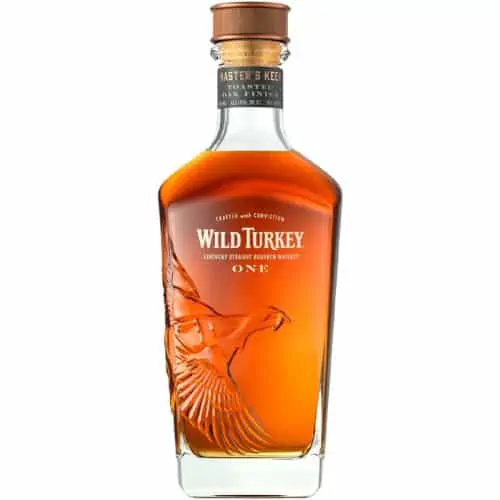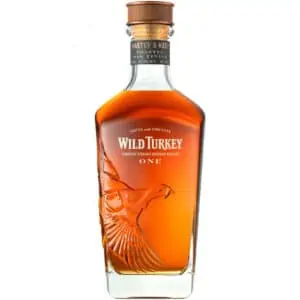 We are pretty sure you know about Wild Turkey if you are a bourbon drinker. We listed a bottle of it a little bit earlier on our list. What you may not know is that they offer limited releases of specially crafted bottles of bourbon.
The Master's Keep series is worth watching out for. If you are interested in collecting or just want to sip some of the finest bourbon whiskey, this is a great find. The current release is a blend of 14-year-old and some medium-aged batches. It's a perfect blend that is then finished in charred barrels.
This release is tough to find and will sell out. You may be able to find a bottle of this top-shelf bourbon by clicking here.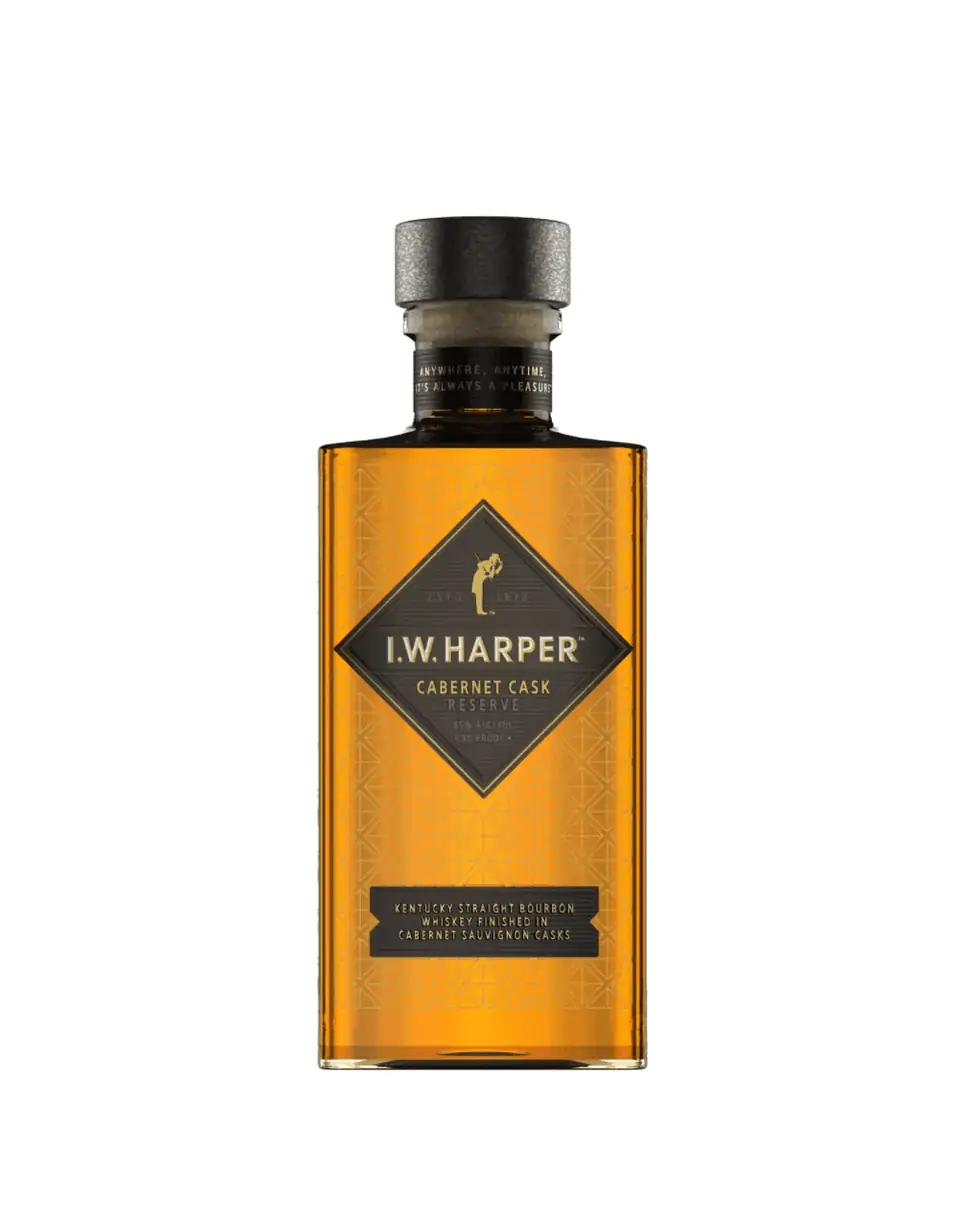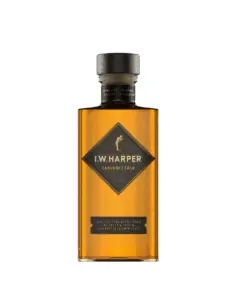 After two decades of being out of production, I.W. Harper is now back with its delicate flavor profile and balanced oaky finish. Like many other popular brands, it provides a distinct sweet note with plenty of corn in the background. However, the mid-palate is what makes this one stand out as one of the smoothest bourbons around.
There are subtle layers of toasted vanilla, nutmeg, and buttery notes. What's more, there are flavors of orchard fruit and shortbread that linger on well into the finish.
If you like trivia, know that I.W. Harper was one of the 10 distilleries which were allowed to operate during Prohibition.
Want to buy a bottle? Start here.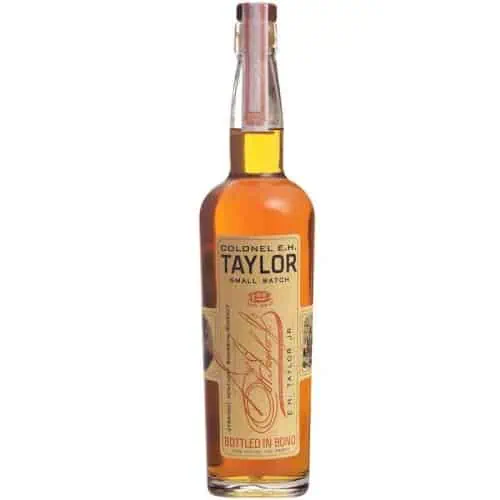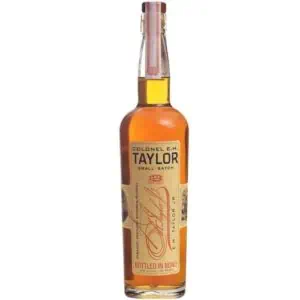 Paying homage to the legendary Colonel E.H. Taylor Jr., this exquisite Small Batch Bourbon is made from a carefully selected blend of seven-year-old barrels housed in a brick warehouse in Kentucky. Bottled in Bond and clocking in at 100 proof, it boasts a distinctive bouquet of oak and dried fruit aromas that give way to sweet notes of butterscotch, salted caramel, and orange on the end. An experience truly fit for bourbon connoisseurs and enthusiasts alike!
You may want to consider decanting this bourbon before enjoying it. 
Grab a bottle of Colonel E.H. Taylor Bourbon Here
If you want to entertain your palate with an unusual bourbon, Koval is a great choice. It contains the required 51% of corn, but the remaining mash bill is infused with exotic millet. This is a grain you'd commonly find in Africa and Asia.
When it comes to the flavors, Koval is very fruity compared to some other blends. It is warming sweet, with plenty of fruits on the mid-palate and a cask char note at the end. This all makes for a really fun sipping bourbon. 
Koval is one of the best bourbons around and it's hard to find. You can order it by clicking here.
If you want a top-shelf bourbon with no experimental grain in the mash, you should give Woodford Reserve a try. True to tradition, this bourbon gives you a perfect balance of sweet and spicy notes.
The somewhat higher proof is there to provide Woodford Reserve with a special edge and offset the notes of ground ginger, espresso beans, and toasty oak. As for the finish, it's mature and long, offering layers of spice and cereal flavors. This is another top bourbon that's widely available. 
Click Here For Current Prices
With Booker's, there's no filtering or cutting, and the bourbon goes into the bottle directly from the barrel. It's a powerful drink with plenty of smokiness and a raw flavor profile.
However, there's still a lot of complexity with a subtle hint of coffee at the end. What's more, it has pronounced notes of cinnamon and mint that balance out the initial heat of the alcohol. If you are wondering about the proof, the batches may range from 120 to 130. We found this bourbon was highly rated on many sites. 
Click here | See the current price and availability on Caskers
Blanton's Single Barrel Bourbon
Any House of Cards fan knows that this is Frank Underwood's bourbon of choice. And once you get a taste of Blanton's, it would be hard to disagree. We also think you should consider picking up a bottle because it's a conversation piece for your bar!
You may expect minute variations in the flavor profile, but the caramel and vanilla aromas dominate the mid-palate. The finish is where Blanton's wins, with a subtle touch of pepper and grassy rye. This is the perfect bourbon to drink neat. Or, if you must drink it on the rock, make sure you made clear ice for your whiskey.
This whiskey can be hard to get. It will pop up occasionally on some of the better online whiskey stores. We are linking to one of your best options below. If you see a bottle is available, you should buy it before they run out!
Click here | See if you can score a bottle of Blanton's
Elmer T. Lee Single Barrel Kentucky Straight
Sporting the proud name of the master distiller Elmer T. Lee, this bourbon provides rich nuances of flavor that show off its premium heritage. The sweetness on the nose introduces smooth maple syrup and brown sugar aromas that permeate this bourbon's body.
On the other hand, the mid-palate is defined by a silky succession of honey, marzipan, and orange peel notes. In addition, Elmer T. Lee won't leave you guessing at the end, since its finish is quite long with a hint of spicy charred oak.
Heaven's Door Straight Bourbon Whiskey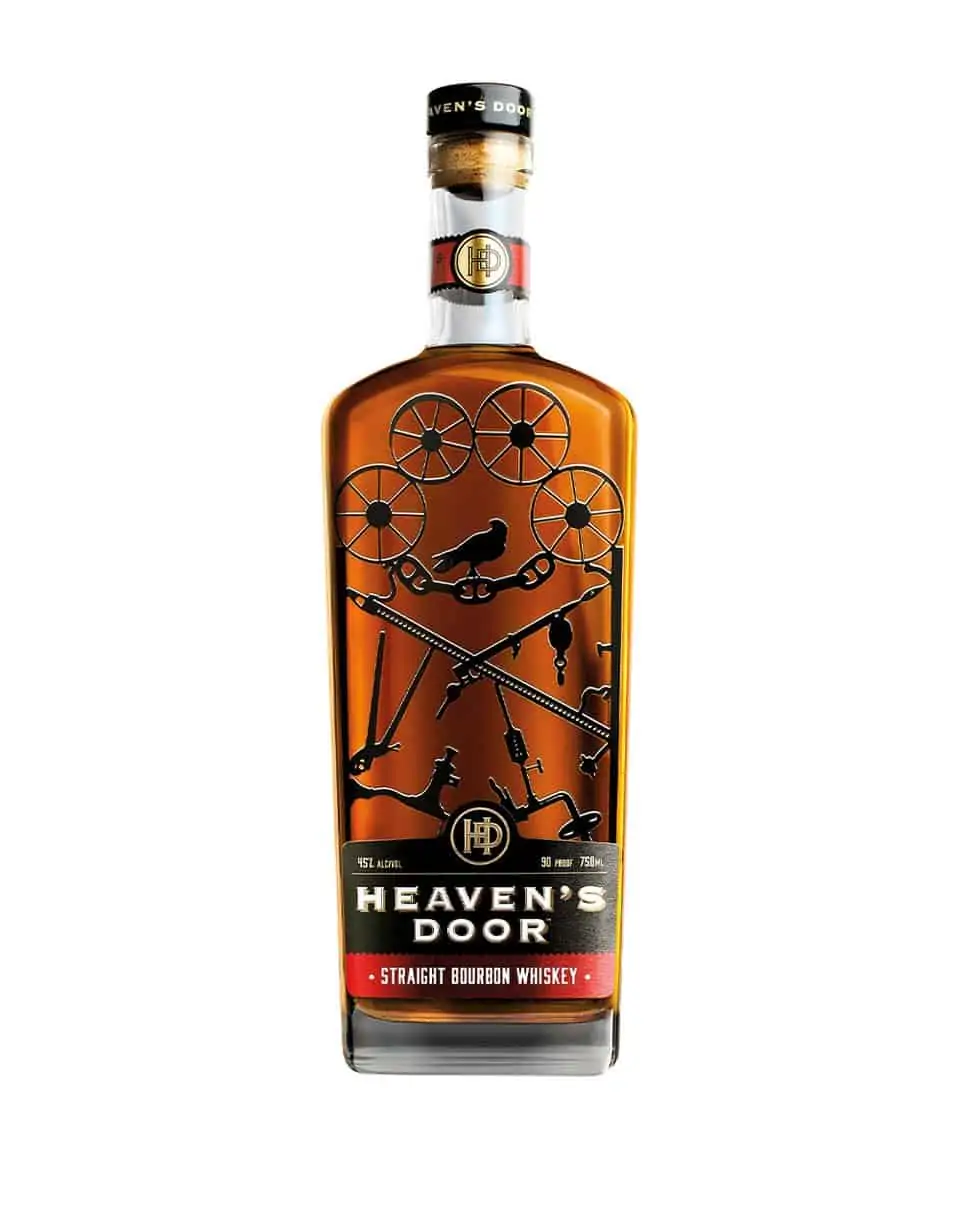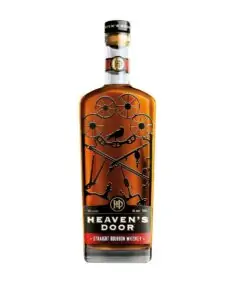 Many of the top bourbon whiskeys have a long and painful history behind them. There is often a story about the people who struggled to establish the distillery during hard times. And generations of their ancestors acting as caretakers for this legacy of bourbon greatness. The force behind Heaven's Door Bourbon is known for celebrating these struggles, but not for making whiskey.
This award-winning American bourbon is made in collaboration with Bob Dylan. Its smooth and lasting flavors of vanilla and warm spice are accented with caramel. The distinctive bottle features a design inspired by Dylan's ironmaking hobby.
Click Here | Buy A Bottle
Hudson Baby is the first New York-distilled bourbon, and it offers a special blend of malted barley and corn. It's uncommon to find a bourbon that features a marsh bill with 10% malted barley and 90% corn. But how does this affect the taste?
Those with a sweet tooth will surely like the Hudson Baby. As it is aged in small barrels, there is also more contact between the spirit and the barrel surface. This provides for an extra smooth profile and aromas that are hard to rival.
Click here to purchase one of the best bourbon whiskeys at a great price!
The baby bourbon is often out of stock. You can try another Hudson bourbon by following this link.
Old Forester 86 Proof Kentucky Straight
Old Forester is yet another distillery that had been in business during Prohibition. In fact, it's operated non-stop since 1870. Judging by its history alone, Old Forester deserves a rightful place on this list.
Taste-wise, the 86 proof features a complex and deep profile, partly owing to the prolonged fermentation process. Aside from the oak-rich flavors, you get refreshing mint notes with just a touch of cigar box and candied orange.
This great bourbon often sells out. You can check to see if it is in stock by clicking here.
This is one of the longest-aged bourbons in the bottled-in-bond category. As such, it features spicy warm aromas and a smoky flavor profile with hints of leather.
It's an excellent fit if you enjoy a spicy mid-palate in your bourbon. With this one, there is a distinct cinnamon note complemented by anise, allspice, and cloves. The finish follows the same flavor profile and it lingers on for quite some time. This is truly a top-shelf bourbon that will impress.
Click here to order the whiskey
Breckenridge Blend of Straight Bourbon
Unlike most bourbons on this list, this one doesn't come from Kentucky. Actually, Breckenridge is a mix of high-altitude Colorado whiskey (the distillery's homebrew) and blends from Tennessee, Indiana, and Kentucky.
This results in a specific flavor profile, dominated by nutty and toasty aromas. At mid-palate, you also get sesame and banana notes which work well with the nutty flavors. This is a truly unique bourbon and deserves a spot on any list of the top bourbons to buy.
Update: There is a special release from Breckenridge that you should know about. The "Dark Arts Malt Mash" is a limited edition. This isn't bourbon, but it's from a great bourbon producer and is a unique single-malt American-made whiskey. You can check it out here.
Master distiller Eddie Russell handpicks the oloroso sherry casks to finish off this well-aged bourbon (between 12 and 17 years). Given its age and dedication to high quality, the taste you get is almost unrivaled. You can expect to pay a hefty price too. There are other bottles on our list of the best bourbon whiskeys that will run you less, but there aren't many that will compete on taste. 
The first sip hits you with bold dried fruit aromas, followed by a touch of nuts and citrus. Master's Keep is exceptionally smooth and almost creamy, and the sherry casks provide it with a distinct savory character. At 50% ABV, it is quite powerful, yet subtle and nuanced enough to impress any aficionado.
While not for everyone, this expensive bourbon is gift-worthy if you want to impress. 
This super-premium bourbon is available online, but the supplies are limited. You can order a bottle by clicking here.
This Jefferson's is more than just a great bourbon. Since it went around the equator and visited more than 30 ports, Aged at Sea is also a great conversational piece. But what can you expect from the taste?
While the bourbon rocks and swirls against the sea, it comes in contact with the barrels more. This gives Aged at Sea a greater depth of flavor and character. Its caramel aroma is comparable to that of dark rum, and the salty sea air contributes to the savory taste reminiscent of Islay Scotch.
What should you expect on the palate from this great-tasting bourbon? Think orange peel, dark fudge, salted caramel, and figs. It is a deep and rich-tasting bourbon that will linger on the palate.
To Order Your Own Bottle | Click Here To Check Caskers
Click Here | Check The Price At Reserve Bar
It's safe to assume that this is the holy grail of all the bourbons and not only because it's no longer in production. You shouldn't think twice about grabbing a bottle if you stumble upon one.
There is no simple way to describe the powerful well-balanced aroma of A.H. Hirsh Reserve. But you're sure to be surprised by its soft nuanced notes that hint at toffee and vanilla. This bourbon sports a medium finish with no burn at all and the flavors continue to develop from dry oak to black pepper.
To truly experience the wonder that is A.H. Hirsch bourbon, you need to find a bottle of the 1974 Reserve 16-Year-Old Straight Bourbon Whiskey. This batch has reached almost mythical status amongst lovers of fine Bourbon. You can still find it in a few select locations online.
Click Here | To See Price And Availability For The 1974 Reserve
Search For Hirsch Bourbon On Reserve Bar | Click Here
Black Maple Hill 16-Year-Old Small Batch
Black Maple Hill maintains an air of mystery about the distillery and the ingredients. It is impossible to know what makes this one of the best sipping bourbon brands.
You can get your hands on this small batch in California only and it sports a rather spicy flavor profile. So it's safe to guess that there's quite a bit of rye in the blend. It's labeled at 47.5%ABV, which puts it among the medium blends.
Evan Williams Black Label
If you prefer easy-drinking spirits, Evan Williams Black Label might be just what you are looking for. It has almost no heat at all and the vanilla and caramel aromas dominate the flavor profile from beginning to end.
Some would argue that this bourbon lacks complexity. However, that is a matter of personal preference and it doesn't make Evan Williams less desirable.
This bourbon can be tough to get your hands on. Check here to see if it is available.
Knob Creek has plenty to offer, even if your palate is attuned to top-shelf bourbons. It features well-balanced aromas of used oak, cashew nuts, and hay at the mid-palate. This bourbon is smooth from start to finish and an excellent choice for those just getting introduced to the exciting world of all-American spirits.
Click here for the best way to order a bottle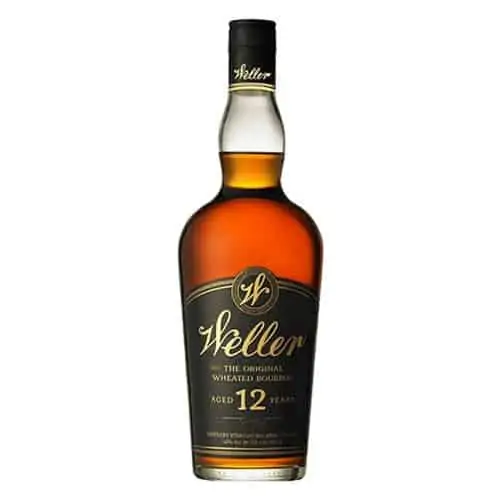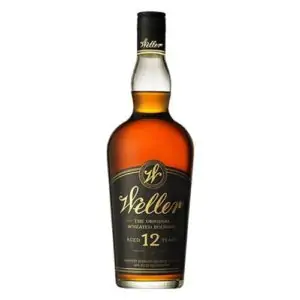 Most connoisseurs would agree that W.L. Weller 12 Year comes close in taste to the famed Pappy Van Winkle. It is a superbly rich bourbon with a complex flavor profile designed to excite even the tiniest taste buds.
As a wheat spirit, W.L. Weller sports a soft and extra-smooth texture with just enough sweetness to offset the aromas of almond and lanolin. The wheat dominates the mid-palate, but it's well layered and it brings toasty vanilla and creamed corn flavors. The finish is quite long and smooth, making you take another sniff just to extend the notes some more. This is one of the smoothest bourbons with no burn like some less well-made bottles have. You will want to sip this from a great whiskey glass. 
Click here to buy a bottle of W.L. Weller 12 Year
This Elijah Craig bourbon is bottled right from the cask, which allows you to appreciate the uncut flavor profile. The batches range in strength between 64 and 70% AVB and the bourbon spends 12 years in oak before reaching the bottle.
As you might expect, this enriches the profile and adds butterscotch, caramel, and vanilla notes to the aroma. In addition, it has a spicy, most notably black pepper finish.
Click here to pick up a bottle
To save the best for last, Pappy's 23-year-old bourbon is truly a legendary American spirit. It is considered to be the finest of the entire Pappy lineup and it's easy to see why when you sip it.
Experts describe Pappy's profile as Cognac-like. The aromas are intense, but the bourbon rolls down your throat in a silky-smooth way, providing you with an explosion of flavors. The notes start with spicy fruits and develop into honeyed oak with a lit of creaminess along the way.
Click Here | Check Prices For Pappy Van Winkle 23-year Bourbon
In the Name of Bourbon
This list has provided you with some of the best Kentucky bourbon brands and a few that are distilled outside the bourbon state. Declaring the overall winner would be an almost impossible task. Each one will leave a unique impression on your palate, so don't hesitate to give all of them a try.
How To Find The Best Bourbon
When you are searching for the best bourbon, there are a few things you need to consider. The most important thing to think about is what you like. As an example, there can be a great barrel-proof bourbon in front of you, but if you don't like strong bourbon, you aren't going to enjoy it.
You should also know that bourbon doesn't improve in the bottle. Unlike, say wine, only barrel aging improves the taste and aroma of top-shelf bourbon. That means that a 10-year-old bourbon is going to taste a lot different than a 23-year-old bourbon. Buying a ten-year-old bourbon sitting in your bar for 13 years isn't going to improve to taste like that 23-year-old.
Clubs like Flaviar will send you tasters. This will allow you to try many types of bourbon for less money. Once you figure out what you really like, you can invest in a full-sized bottle.
Do you prefer a spicy, sweet, or mellow bourbon?
For a spicier bourbon, look for a higher percentage of rye in the mash.
For a sweet bourbon, you should find a bourbon that uses a higher percentage of corn than the required 51%.
Want something a little more mellow? Find a bourbon that is "wheated". That means a higher percentage of wheat is used. Here is a list of fine wheated bourbons.
Do you enjoy bold and complex flavors and maybe a little "burn" in your bourbon?
Consider buying a bourbon that is bottled at cask strength (also known as barrel proof). You can cut the strength as needed by adding a little water to your glass.
Do you want to try bourbons with unique aromas and flavor profiles? Consider buying "small-batch" bourbons.
The bourbon in these bottlings is pulled from fewer barrels. That means a blender can go for a more unique character versus the typical blend pulled from hundreds of barrels. We consider Woodford Reserve to be one of the best bourbons widely available for anyone who wants to try small-batch.
We hope this helps you identify the best bourbons for your taste!