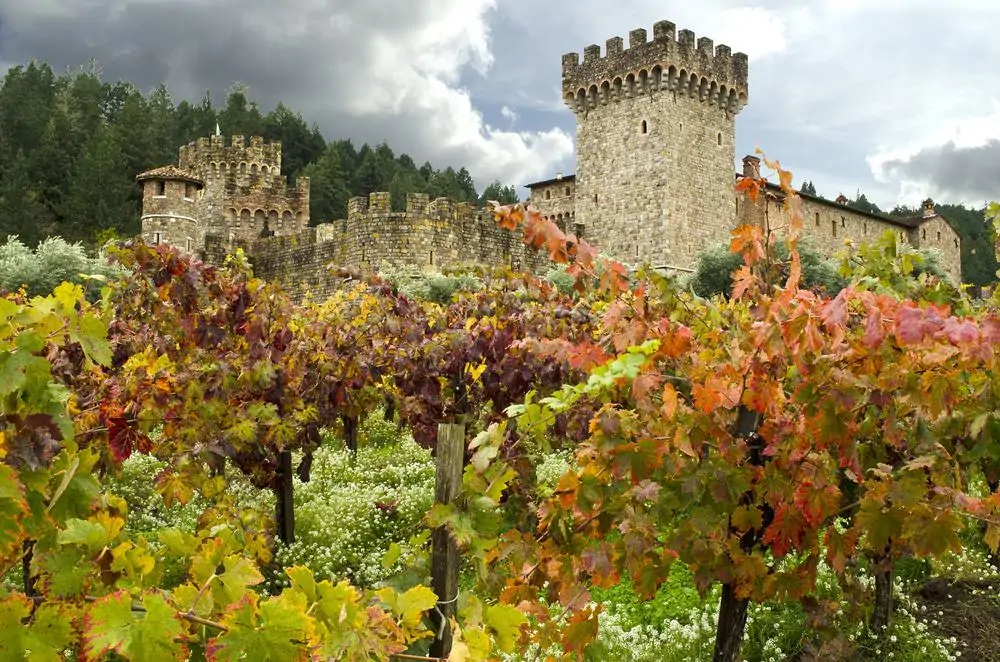 Castello Di Amorosa Coupon Details
We are often asked how to find a Castello di Amorosa coupon. The Castello charges $25 for wine tasting. This is a reasonable charge in Napa. Napa tasting fees are often closer to $45. The best deal we can find is through Priority Wine Pass.
The winery will refund your $25 fee when you purchase their wine. They don't sell wine through traditional retailers, so buying it at the Castello makes sense.
The Castello is a top spot for wine travelers. We featured it in our Top 10 Napa Wineries for visitors. The property is over 120,00 square feet. It has over 100 rooms. There are four levels underground and four levels above ground. This castle was the dream of Dario Sattui. His love of medieval architecture, Italy, and wine came together in 1994.
Mr. Sattui had the good fortune to locate an ideal property. The sellers already had permits for a large winery. After considering a smaller project, the decision was made to go big. This would be the perfect spot to build the Castello Di Amorosa. From the start, the plan was to feature Italian wines.
Today you can still find great Italian reds. You can also find more typical California wines like Cabernet Sauvignon, Merlot, and Zinfandel. With the Castello di Amorosa coupon, you can taste five of their wines while enjoying general admission to the castle and grounds.
Combo Savings | Wine Train and Castello
You can enjoy the best of Napa Valley when you combine a trip on the legendary Napa Wine Train with a stop at the Castello. This is another discount offer available when you sign up for the Priority Wine Pass.
Here is a description of this amazing experience:
Guests will enjoy a welcome taste of our private label wine, a choice of soup or salad, a choice of an entrée, and a choice of dessert as the train heads Northbound. At the Northbound stop in St. Helena, the group will departs the train and transfer onto a private shuttle. The group will enjoy a two-hour in depth tour and tasting that will explore the castle. After the tour and tasting guests will re-board the shuttle and head back to the station via Silverado Trail.
Your friends also save. You will be the hit of Napa when you tell up to three guests that they save $20 because you are a Wine Pass member! That's a total savings of $80 with your Castello Di Amorosa coupon.
Follow these steps to get your special savings:
Sign up for the Wine Pass.
Remember to enter your code CWA15 at check out.
Mention that you are a Priority Wine Pass member when you book. They will apply your Castello Di Amorosa coupon and give you the discounted rate!
Savings beyond the Castello
After visiting the Castello, stop by V. Sattui. This is the sister winery owned by Dario Sattui. They also provide discounts to holders of the Priority Wine Pass.
You can learn more about the building of the Castello di Amorosa on their website.
The Priority Wine Pass is great. You don't have to hunt down coupons for individual wineries. They have negotiated discounts at hundreds of top wineries. You also receive discounts at hotels, restaurants, and tour providers. Also, it is not just for Napa. You can use the pass in Sonoma and the Central Coast. We think it is the easiest way to save on wine tasting.