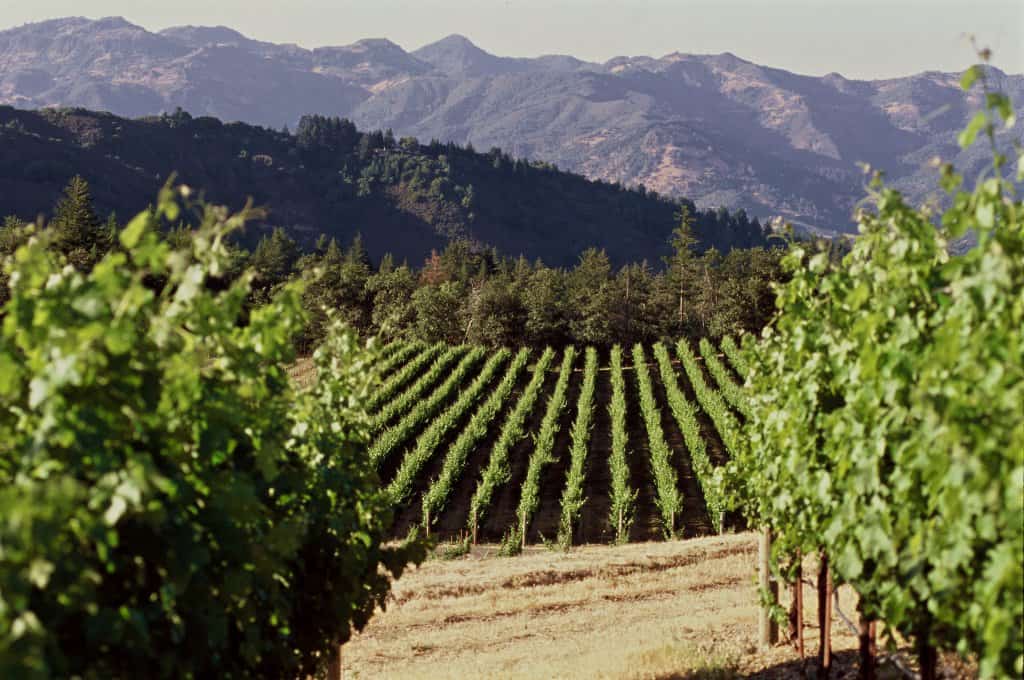 The Napa Agenda: Six Ultra Premium Napa Valley Wine Tasting Experiences
Napa Valley wineries offer the well-heeled and the "connected" special high-end wine tasting opportunities. Many visitors don't know that there are luxury wine tasting experiences for those of us that don't arrive via private jet. For an experience that is truly memorable, engaging the services of a concierge with connections is a wise first step. Securing private tastings and tours with wineries requiring credentials is the ultimate luxury for oenophiles, delivering an incomparable visit that pampers and pleases.
We are happy to bring you our top suggestions for ultra premium Napa Valley wine tasting experiences. We can also suggest a great wine travel consultant who will help you plan a high-end Napa Valley wine tasting adventure.
From Harlan to Promontory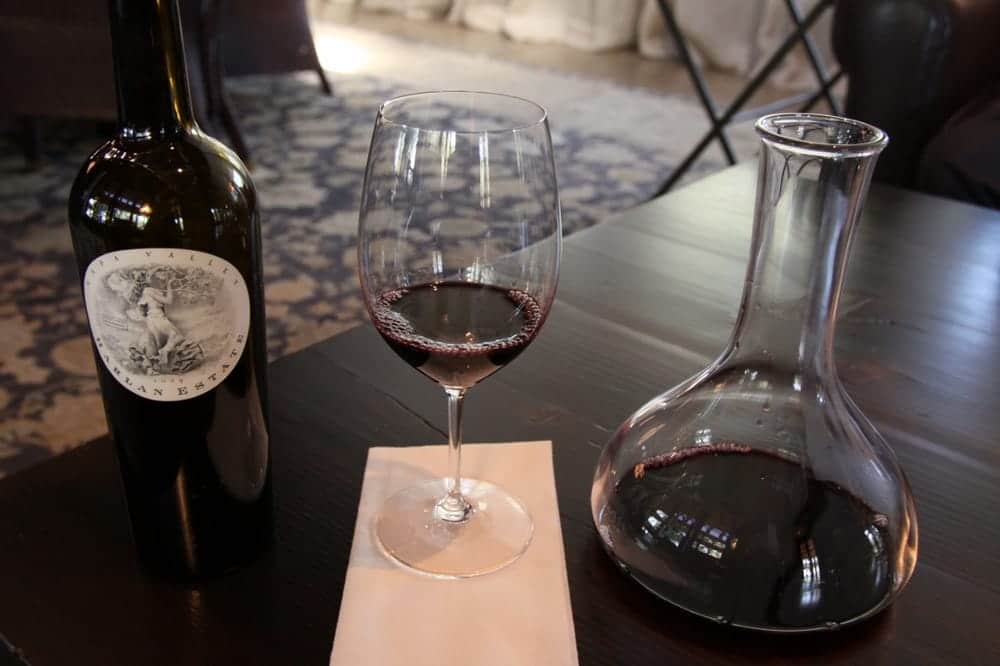 The secretive reserve of the Harlan Estate winery evokes exclusivity. Harlan produces outstanding wines that play hard to get, sometimes even for the entitled wine lovers bearing coveted membership status. With just the right alignment of oenological stars and local connections, you could be drinking in the culture and status at Harlan. They offer an extraordinary tasting amid lush terraces and dining spaces.
Unfortunately, this luxury Napa wine tasting experience can be an elusive invitation. Harlan, however, has a newer, more transparent, more approachable sister in Promontory. This pure, wild property is so deeply embedded in Oakville's hinterland the owners refer to it as a "territory." While not the highly exclusive Napa wine tasting of Harlan, this is close.
It is hard to believe that just a little more than 400 yards to the north of this rough, raw landscape, Harlan's perfectly polished vineyards look knowingly upon Promontory as the focus of the new vineyard comes into view. Part of Bill Harlan's 200-year plan, Promontory features architecture from Napa design rock star Howard Backen. The high end, bleak-chic features pay the perfect complement to the untamed land, underscoring purity and authenticity while completing Napa's tasting palate with what the owner calls a heretofore absent shade of red.
The lux Napa Valley wine tasting experience at Promontory begins with a flute of Dom Pérignon Champagne from the second or third plenitude, aka P2 or P3, setting the bar high for the tasting. A geographic discussion of the grounds is presented to each party by their own winery guide with deep knowledge of the vineyards, supported by a visit to the winery for tasting young wines still resting in casks. The wines spend 12 months in French oak and are then blended into Stockinger oak casks from Austria that echoes the natural characteristics of the terroir.
The guide then opens a private room for exclusive tasting a variety of vintages and releases with the possibility for purchase. Those owning a history of transactions with Harlan Estate and its counterpart Bond Winery, as well as those with connections, can expect an itinerary interpreted with more lavish detail, exploring vineyards, structures, and technology reserved for a privileged few. This luxury Napa Valley wine tasting experience from Promontory is sure to amaze even the most well-traveled wine lovers.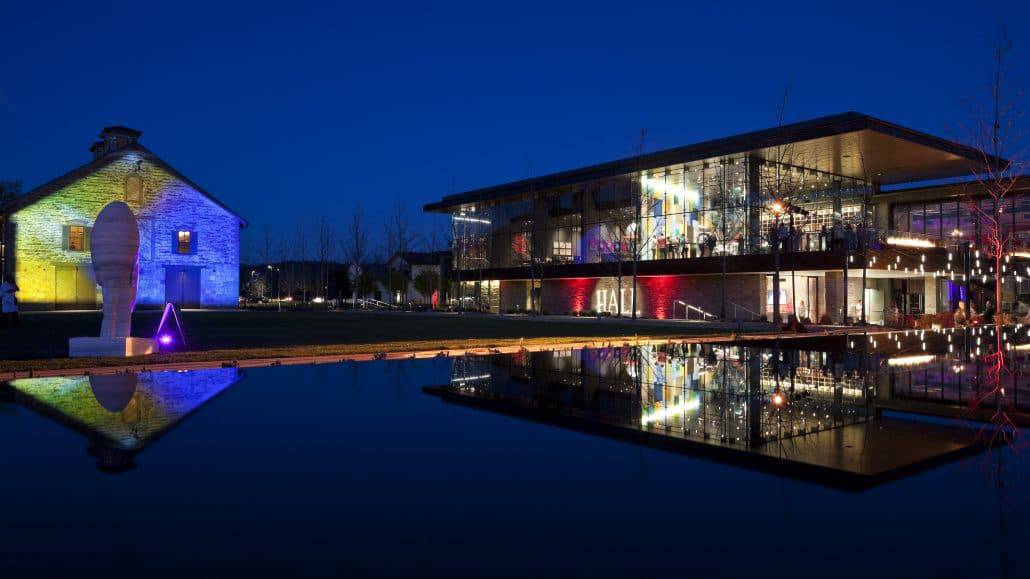 Carefully curating grapes from 13 of the 16 Napa Valley appellations, Hall Napa Valley wines perfectly illustrate the meaning of terroir. All other variables being equal, it is the terroir that makes the difference in this portfolio of plush, dense, structured wines with refined tannins.
While a visit to the St. Helena Winery reveals the l50-year-old. beautifully restored, Bergfeld Building. This building housed the original Napa Valley Co-Op, the Rutherford winery is the place for a private tasting of the most limited production wines. The beautiful location is further enhanced by an expanse of floor-to-ceiling glass for remarkable views.
Strolling through the 100-point Sacrache vineyard is more than memorable as are the tasting dinners. Presenting seasonal cuisine prepared by acclaimed chefs, the dining table is delightfully lit by a massive Donald Lipski chandelier in the shape of a grapevine root system set aglow with the sparkle of 1,500 Swarovski crystals. The tasting caves are hand built from bricks imported out of Vienna, providing an extensive network for the gravity flow system. Wines made in this way, from organically farmed, densely planted grapes, experience a minimum of disruption, resulting in some of the smoothest, most flavorful Cabernet Sauvignon wines in the world.
Check with the winery about special wine and food pairing events and workshops. Find out when they are offering sips of the rarest single vineyard bottles in the Appellation Exploration Experience. That is truly a lux Napa Valley wine tasting experience.
Schramsberg Winery's Superb Sparkling Wines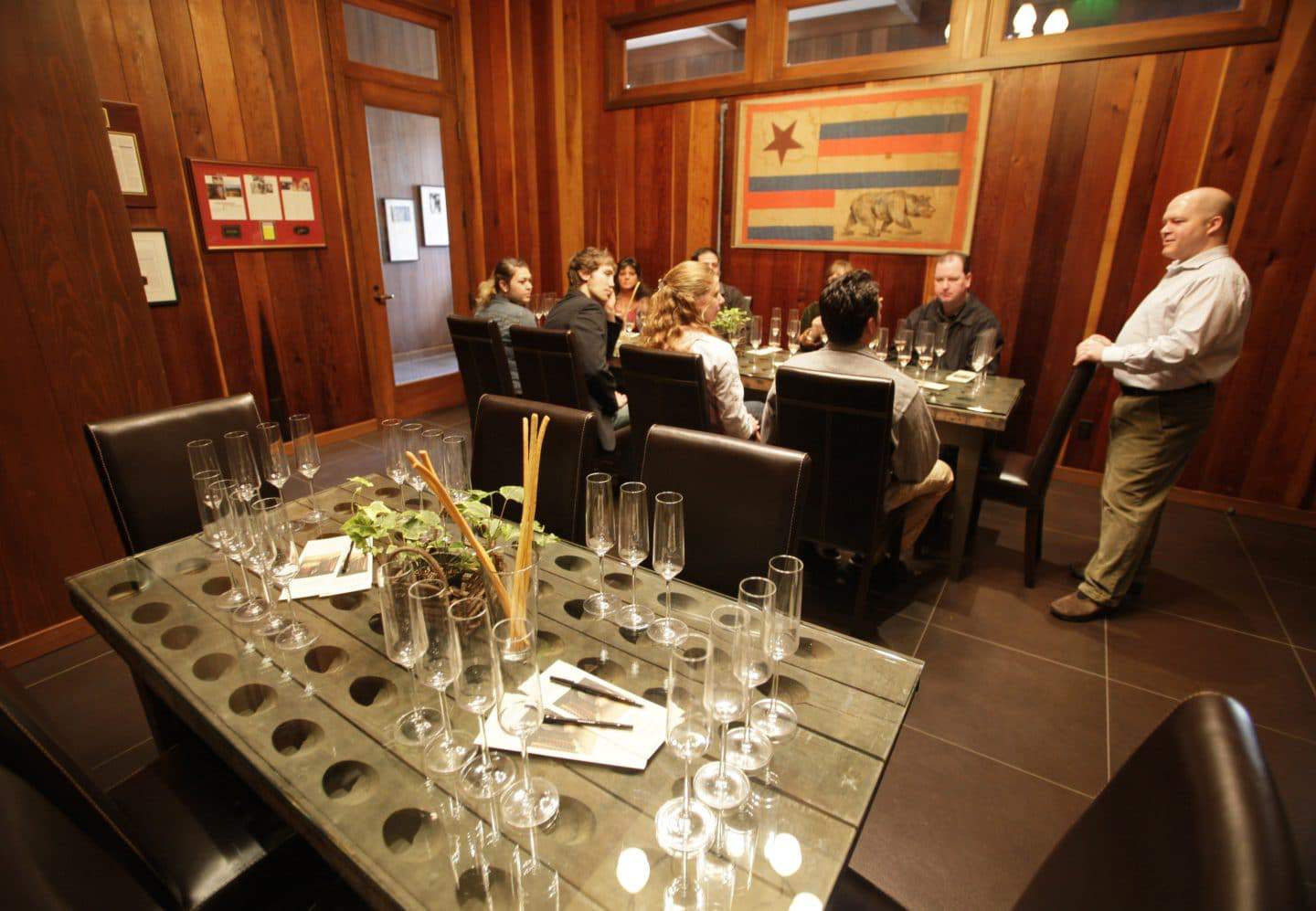 Immigrating from Germany to California in 1862, Jacob Schram built both a home and a winery on 200 acres of Napa Valley's Diamond Mountain, digging caves for aging and building an elaborate Victorian mansion on the site. Soon after Jacob's death, the winery discontinued operations. Time ravaged the property as it sat quietly in wait. A century later, Jack and Jamie Davies, looking for a simpler, more meaningful life, saw the possibilities. They bought the property and set to work. Today, the estate is thriving, recognized as the premier producer of North American sparkling wine.
The Schramsberg Vineyards estate offers one of Napa's most exclusive wine tasting experiences in its week long Camp Schramsberg. This camp leads guests from the vineyards to the glass as they explore the méthode traditionelle of making great sparkling wine. Guests arrive either for the spring blending or fall harvest sessions. These exclusive Napa Valley wine tasting options are similar in structure with minor changes that reflect the season.
Sessions begin with candlelight dinners in the caves, prepared by impressive guest chefs. Spring attendees learn the essentials of pruning as the tender new buds break upon the vines, then learn about assemblage where blending with over 100 previous harvest base wines while participating in dosage trials. Tours and tastings, hosted by president and head winemaker Hugh Davies lead to food and wine pairing sessions and instruction on sabering a sparkling wine bottle a la Napoleon in celebration of victorious battles.
Continuum Estate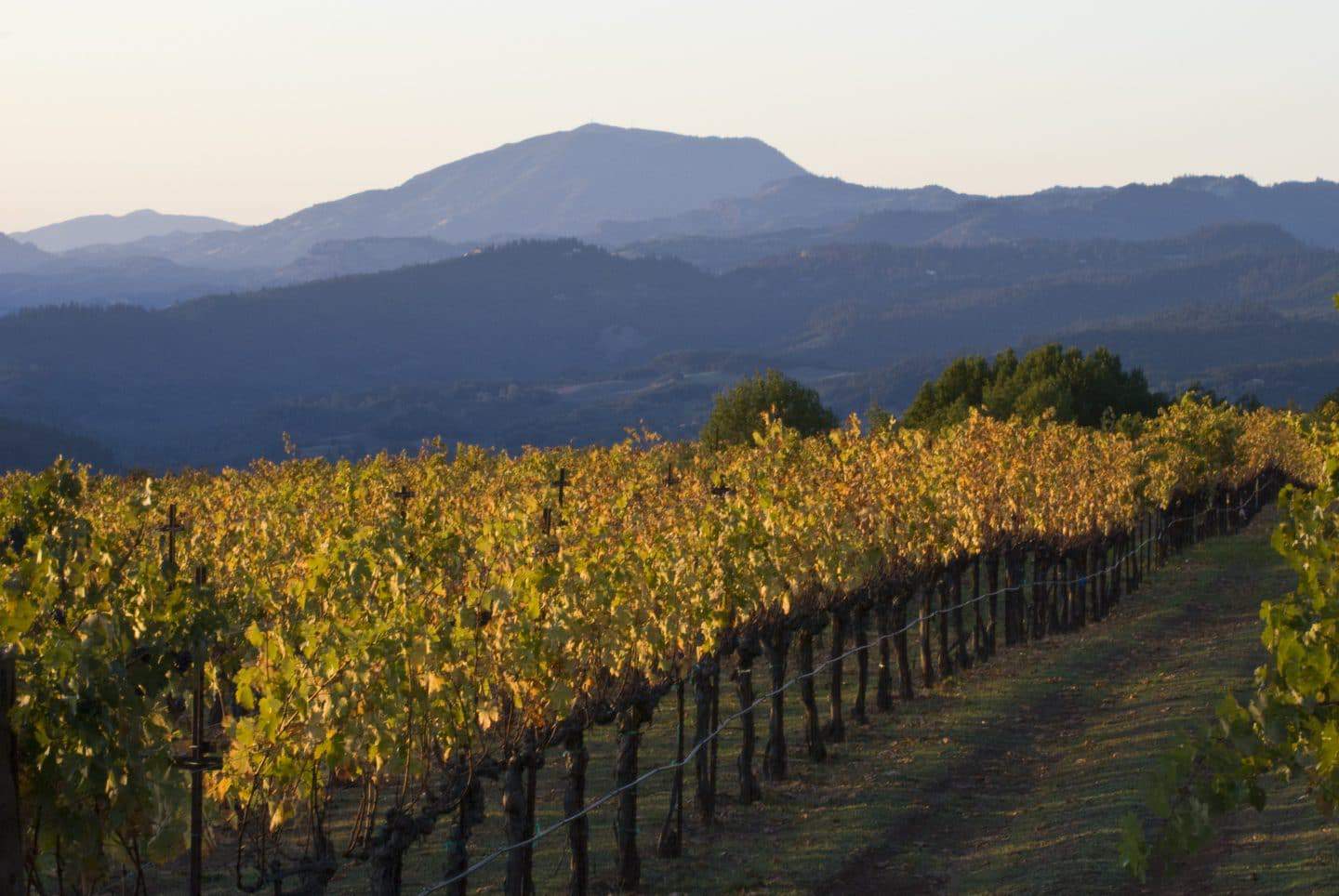 The Mondavi family history is an important part of the winemaking landscape. Beginning to make wine in the early 1900s, Robert Mondavi watched his family business grew by leaps and bounds, eventually becoming a large, corporate operation. After selling the Robert Mondavi Winery in 2004, two of Robert's children, Tim and Marcia, joined by Robert's wife Margrit, purchased stellar vineyards on Pritchard Hill, turning them into the sumptuous Continuum Estate winery. The inaugural 2005 vintage is a highly prized collector's selection, sourced from the Mondavi To Kalon Vineyard in Oakville and additional fruit from the Stag's Leap district. The first vintage sourced from the new estate in 2008 remains in high demand, capturing great density, lively fruit, and smoothly polished tannins.
Private tastings at the Pritchard Hill winery can include lunch with the family, and a vertical tasting of Continuum, packing four generations of family devotion and four decades of Tim Mondavi's viticultural expertise into one day. Consider booking two months in advance, and prepare to adore every sip.
Palmaz Vineyards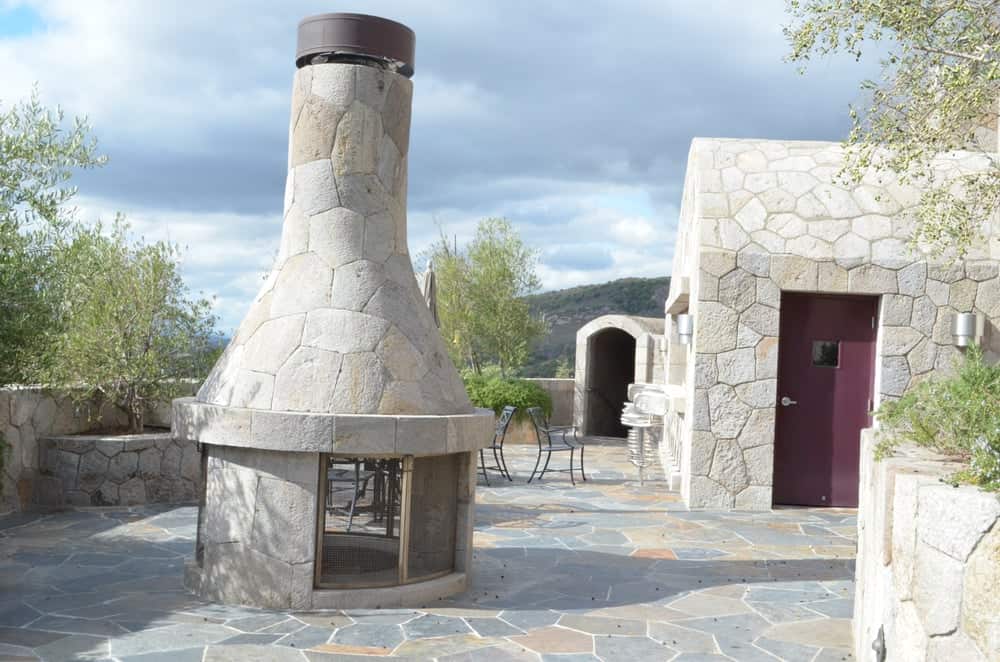 The Palmaz estate, perched with ease and elegance on the face of Mt. George, looks to be a traditional stylish stone enclave but its secret lies within. Palmaz Vineyards' gravity-flow winemaking equipment, tucked into a 16-story cavern in the mountain, identify it as not only an innovative winemaking plan but an engineering feat accommodating both form and function.
In the domed fermentation room encircled by twenty-four tanks, precious juices are constantly monitored and data projected onto the ceiling in a reassuring modern visual array. Tunnels radiating from the dome are also built into the rock, connected to a menu of technologically advanced systems. The process dismisses the need for mechanical pumps, protecting the molecular structure of the wine from any unnecessary vibration and movement. Above ground, similar care is taken in the vineyard. Farmers touch each vine, providing individual attention as opposed to a general consensus of overall vineyard status. Organic, biodynamic, and sustainable practices maintain a healthy farm at all three vineyard elevations.
The technology also has history as a partner. The winery got its start from Henry Hagen in 1881, an oenological pioneer that planted vines and supplied wines to the San Francisco Opera House, winning awards at the 1889 Paris World's Fair. The 600-acre estate was beautifully restored by the Palmaz family in the 1990s. Tours of the vineyard and winery include an explanation of the gravity-flow winemaking process, an exploration of several of the cave levels, and an exquisite pairing of hors d'oeuvres accompanied by a highly respected selection of wines. You will be impressed with both the expertise of the winemaking and the beauty of the technology at this premium Napa Valley wine tasting stop.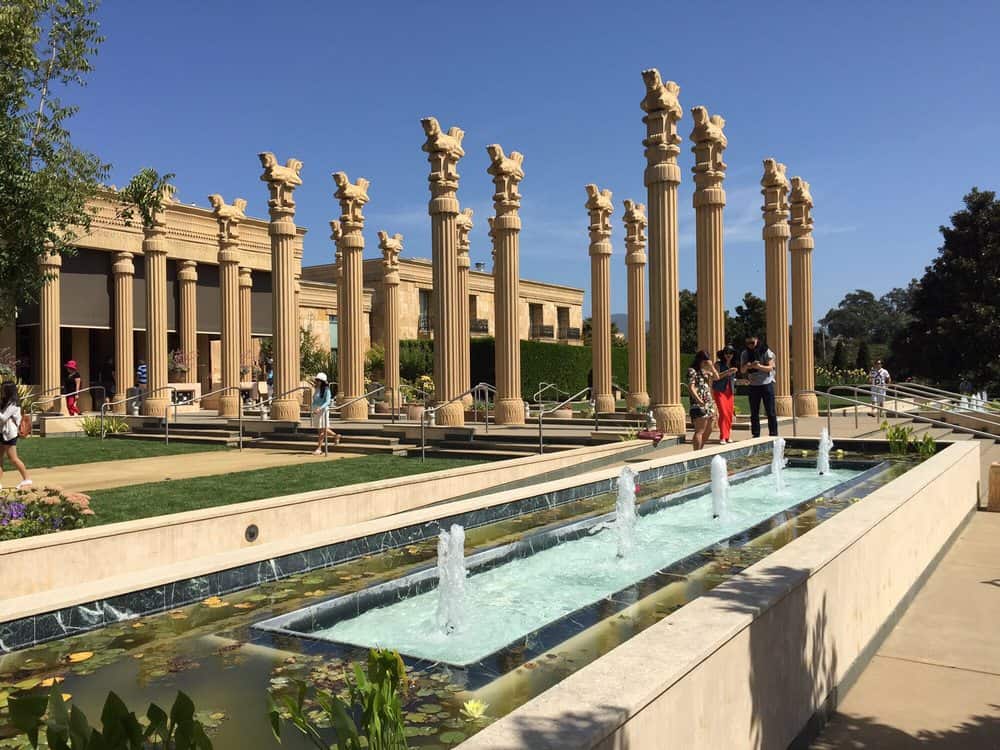 A destination in itself, Darioush Khaledi combines wine craft, fine art, authenticity, and tradition, all presented with exceptional grace. Calling on his Persian heritage and his father's inspiration in the art of winemaking, Darioush is the ultimate entrepreneur, driven to realize a dream and share it with the world. In search of the perfect location for a vineyard, Darioush and winemaker Steve Devitt chose the cooler microclimate in the southern Napa Valley for an extraordinary project, the Darioush Winery.
Spanning three AVAs, Mount Veeder, Oak Knoll, and Napa Valley, Darioush combines a rich mix of terroir supporting superior red and white varietal grapes. The rugged 2200-foot elevation of Mount Veeder produces complex reds, while Oak Knoll yields consistently beautiful Chardonnay, Sauvignon Blanc, Merlot, and Viognier fruit. The Darioush Winery at the Napa Valley location is also home to the family on 33 acres at the Silverado Trail's southern boundary. It produces Cabernet Sauvignon, Merlot, and Shiraz fruit that delivers lush, deep profiles representing the winery's oldest vines. Darioush offers his best in some very large format bottles, including the three, six, and nine-liter selections of his signature Cabernet Sauvignon often sold out very early after release.
Guests have the privilege of lunch with Nina Wemyss, Darioush's passionate raconteur, intimately familiar with the world of wine. Her expertise is extensive and presentation is flawless. Accompanied by a seasonal lunch menu from the finest Napa Valley chefs, limited release and winery-exclusive glasses are poured while enjoying the aesthetic gifts of the sumptuous estate. Outdoor colonnades, serene reflecting ponds, lavishly appointed interiors, expansive barrel chai tasting areas, and beautifully appointed dining and entertaining spaces extend the feelings welcome privilege. There is no doubt this is an ultra premium Napa Valley wine tasting experience like no other.
Kenzo Winery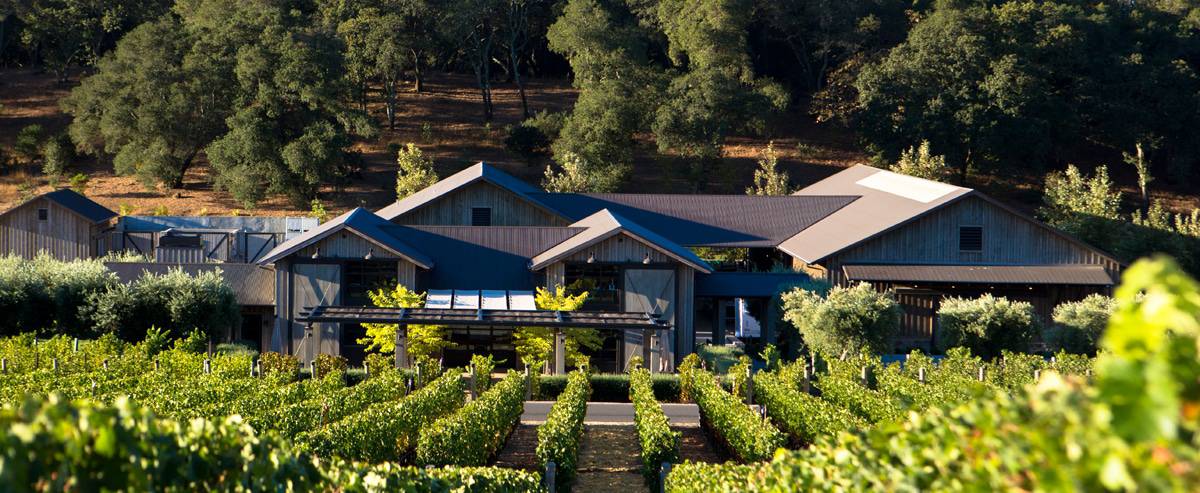 Kenzo Tsujimoto, a very successful video game publisher from Japan, discovered a late in life passion is his Napa Valley winery, aiming to create the best Napa Valley wine tasting experiences possible. Through meticulous farming methods and winemaking expertise, Kenzo Estate wines have made their mark at the top, but Kenzo himself continues to strive, and improve, on a very high-quality product.
Tastings are quite limited, giving the impression that guests are part of Kenzo's inner circle, enjoying the posh 4000-acre grounds. While it is obvious that no expense has been spared in the design and execution of each and every detail, the expanse exudes grace and humility, surrounding the natural landscape and the perfect vineyards. Long-time friend Thomas Keller often adds the perfect touch to tastings, presenting some of his most elegant plates at Kenzo.
Flagstone, oak, and furnishings, both indoor and out, have that perfect symmetry that puts the mind at ease, fusing Japanese simplicity with American comfort in one of the most visually stunning winery properties in the Valley. Should time not allow a winery visit, reserve a table at their Kenzo restaurant in Napa, where an extensive selection of his wines is beautifully paired with Japanese cuisine.
More Napa Valley Wine Tasting Resources
The Top 10 Wineries for first-time visitors to Napa Valley
The best way to save in Napa Valley wine country