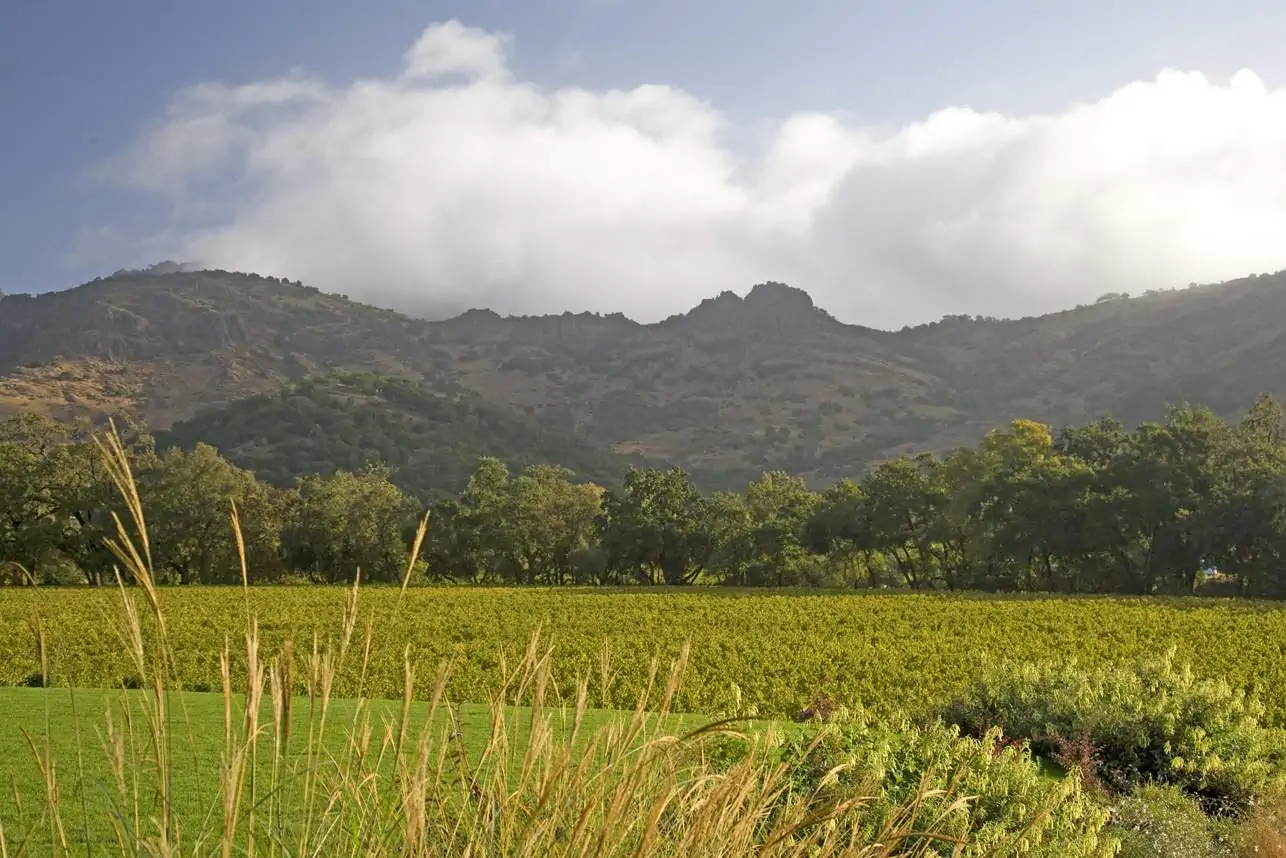 What are the best Silverado Trail wineries to visit? We often get this question from wine lovers planning a trip to Napa Valley. This "off the beaten path" trail is dotted with some of the most significant wineries in the Valley. The trail has come a long way from its humble beginnings as a mining access road. It winds through the world famous Stag's Leap District and up to the hot springs of Calistoga. There is no doubt the Silverado Trail is one of the most iconic wine tasting trails in the Napa Valley.
Its winding roads are off the beaten path from Hwy 29 and afford you a stunning drive through the valley.  Because of the caliber of wine you can find on this trail, the tastings may be more expensive than in other parts of Napa, but most come with an experience that is definitely worth the price.
Our list is a starting point as you plan your journey on the trail. There are a number of great Silverado Trail wineries that aren't listed, so feel free to mix and match to suit your tastes. We are confident that these Silverado trail wineries will leave you feeling satisfied when you reach the end.
The Top 8 Silverado Trail Wineries
Quintessa Vineyard
Quintessa is the gold standard, Rolls Royce, and Versace of the Silverado Trail wineries. A wine tasting at Quintessa is more than just wine in a glass, it is a sensory experience. The grounds are majestic and your tasting includes a tour of the estate complete with visits to their underground wine caves. Because of the private hosted tastings, reservations are required.
The experience is pricey, over $100 per person, but well worth it. Guests will not only get free time to tour the estate but a mini-education in wine that is valuable to take onto your next wine tasting. An "ambassador" acts as your host, taking you through each wine step by step. You are seated at a private table, rather than standing at a tasting bar. Quintessa has a fancy database, where they keep track of who visits their winery so you'll never experience the same tasting lineup or tour twice. Wines that are included in the tasting are their new releases, Illumination Sauvignon Blanc, and their Library Vintages.
Quintessa 1601 Silverado Trail South, St. Helena, CA 94574   707-286-2730
Mumm Napa
Mumm Napa's popularity has rocketed lately as millennials embrace Sparkling Wine and Champagne like no other generation. Sparkling wine is the perfect recess for your palate when you tire of the reds and whites and need a little more sparkle in your glass.
Mumm Napa was born in the 1970s and has stayed true to the winemaking techniques of its French heritage.  By creating some of the finest handcrafted sparkling wines in California, Mumm has guaranteed its longevity and status as one of the top Silverado Trail Wineries.
Tastings are indoors or outdoors on their patio/salon which overlooks views of the Rutherford Valley. There is also a fine art gallery on site which features breathtaking works from the photographer, Ansel Adams. Tastings are $25-$45 depending on if you'd like a reserve or non-reserve tasting. They also offer food options to pair with your sparkling wine as well.
Mumm Napa   8445 Silverado Trail, Napa, CA 94558
Stag's Leap Wine Cellars
Stag's leap is one of the most significant wineries in the history of the American fine wine movement. One of the wineries that competed and won the "Judgement Of Paris", Stag's Leap continues to produce high-quality wines from their location on the Silverado Trail.
As a visitor, you can choose from a flight of Estate or Winery Exclusives. Each host takes the time to explain each wine and walk you through the tasting. Handcrafted rosemary caramelized popcorn is offered as a snack to go along with your tasting. The pours are generous which is appreciated since the tastings start at $45 each.
Reservations are required for the popular cave tours. These intimate tours are one of the reasons Stag's Leap is considered one of the best Silverado Trail wineries. You're greeted immediately with a glass of Sauvignon Blanc and taken to the cool, underground caves where you'll get to taste more wines. It's a memorable experience for any wine lover.
Stag's Leap Wine Cellars  5766 Silverado Trail. Napa, CA 94558  707-261-6410
Clos Du Val
Clos Du Val is serious about their winemaking. They own three different estate vineyards in the Napa Valley. They harvest the grape varietals Cabernet Sauvignon, Chardonnay, Pinot Noir, and Sauvignon Blanc from these.
The tasting room is simple, but the wines and service make for a special experience. The winery's history dates back to the 1800s, so there is a history lesson that goes along with your wine tasting. The estate itself is relaxing. You can roam the grounds or just chill out in the shade of their olive groves. There are also picnic tables onsite, so bringing your own food for a picnic is encouraged. Club Members can enjoy benefits like access to the cabanas outside and extra tastings.
Clos Du Val  5330 Silverado Trail, Napa, CA 94558  707-261-5212
Paraduxx Winery
Literally a pun on "Pair of Ducks", this winery is the sister winery to the popular Duckhorn winery. A tasting here feels like home as you are greeted by generous hosts in a yellow modern Vineyard House.
Tastings are separated by Estate and Elevated tastings which start at $35. One of the most popular tastings is the "The Blend Experience" which lets tasters try their hand at winemaking by blending their own varietals.
Guests are welcomed with a glass of Rosé. The rest of the tastings consist of four types of red wine and then finishing with a cool, crisp white wine. Crackers and cheeses are also provided. Joining their Portfolio wine club means you have access to all the wines and benefits of all three wineries - Paraduxx, Duckhorn, and Goldeneye.
Paraduxx Winery   7257 Silverado Trail. Napa, CA 94558
ZD Wines
ZD Wines is a family owned and operated winery. For three generations they have crafted top-notch Napa Valley wines. Their award-winning wines span a range of varietals that include Chardonnay, Pinot Noir, and Cabernet Sauvignon. Visitors can choose their own "adventure" among the many different types of tours and tastings offered.
The "Eco Vineyard Tour and Wine Tasting" delves deeper into their organic farming and eco-friendly practices of the winery. Tours and tastings are by appointment only. Wine lovers will go crazy for their Red Blend as they sip and relax on ZD's outdoor tasting room. The tasting area sits on a hilltop offering panoramic views of the valley. Tastings are $40 and include five wines, cheese, and breadsticks.  Visitors love the intimate tastings and personalized attention. That's what makes this one of the best Silverado Trail wineries.
ZD Wines   8383 Silverado Trail. Napa, CA 94558  800-487-7757
Darioush Winery
Be transported to another time and place (we are thinking Persia 5,000 B.C.) at the majestic Darioush Winery. This palace sits on Silverado Trail and sticks out like a very beautiful thumb.
Inside you'll be greeted by dramatic interiors of Persian rugs, columns holding up high ceilings and a mini-museum about the history of Iran. You can choose from different tastings, but the basic tasting is $40 which includes bottomless pistachios and a private table.  The fee is waived with the purchase of three wine bottles. Darioush is known for their Cabernets and big Bordeaux style blends. Their dessert wine is like "liquid gold" and was created especially for the Proprietor's wife. We think this is the best of the Silverado Wineries for anyone interested in architecture and wine.
Darioush Winery   4240 Silverado Trail. Napa, CA 94558   707-257-2345
Rombauer Vineyards
Rombauer is a popular wine you might have seen at your last get together. It is available at all major grocery chains. Don't shy away from this Silverado Trail winery just because of its mainstream popularity.
They have a beautiful tasting room that is certainly worth your visit. It sits atop a tree-covered knoll, looking like your rich grandmother's cottage. There are mountain views, a whimsical garden with over 100 varieties of flowers, and an art gallery. Picnic tables in the garden are available for visitors to bring their own food and enjoy the beautiful surroundings while enjoying lunch and a bottle of their wine.
Tastings are by appointment only and are guided by a host where you will learn all about the winemaking process while enjoying the limited production and single vineyard bottlings. If you can't get an appointment wines by the glass are also offered on a walk-in basis. Fun fact: The owners helped write the infamous cooking book "The Joy of Cooking."
Rombauer Vineyards   3522 Silverado Trail North. St. Helena, CA 94574   800-622-2206
Napa Resources Beyond The Silverado Trail Wineries
The Top 10 Wineries For Napa Insiders